Who is Joey Bryant and how did he end up on the ASU football team?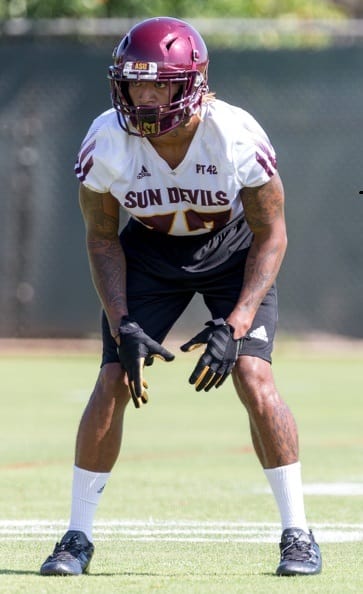 Joey Bryant's road to college football is as unconventional as any.
He wasn't recruited in high school. He eventually played football and did track and field at a junior college. In between both, he was a busboy at Roy's, a Hawaiian-influenced restaurant.
"I was just trying to chase a dream I guess," Bryant said. "I didn't want to be a busboy forever."
It finally appears Bryant, 25, is finding his way. Arizona State football began Fall Camp this week and Bryant earned first team reps at cornerback during the first practice on Tuesday, then followed them up with second team reps on Wednesday.
When Bryant transferred to ASU from Mt. San Antonio College for the fall 2016 semester, he did so on a track scholarship. He then competed in the long jump, high jump and triple jump for the university's track team during the spring semester.
But when he originally signed his letter of intent for track and field, he told ASU's track coaches he intended to eventually play football. He wanted to use track and field to get there because he was never offered a scholarship by the football program.
"I knew I had good (junior college) film, so I tried to talk to the coaches and show them my football film," said Bryant, a Honolulu, Hawaii, native. "They liked it. They said they thought I could play here and (defensive coordinator) Phil Bennett gave me a chance.
"(The track coaches) were in the football coaches' ears."
Bryant is no longer on scholarship for the track and field but is trying to earn a football scholarship. He said first-year defensive coordinator Phil Bennett expects him to do just that. Bryant has two years of eligibility to play football.
Coming out of spring football, most people had a general idea of how ASU's defense would look in the fall. The big question was the secondary and how it would shape up, especially after top cornerback Kareem Orr announced he was transferring in May.
So where did Bryant come from?
"The sky," redshirt sophomore Ryan Newsome quipped.
"Out of the blue," redshirt sophomore John Humphrey added.
Bryant attended high school at Saint Louis School in Honolulu, Hawaii, the old stomping grounds of former Heisman Trophy winner and current Tennessee Titans quarterback Marcus Mariota. Fans may not know him, but his new football teammates are becoming accustomed to his abilities.
Newsome recalled a 7-on-7 the Sun Devils did before Fall Camp where redshirt junior quarterback Manny Wilkins threw a post route and Bryant ran across the field, jumped over a receiver and caught it. As a senior in high school, Bryant took home a state championship in the high jump.
"He's probably the most gifted DB we have just as far as athletic ability," Newsome said. "I'm pretty excited about him and what he's able to do."
Without Orr, it seemed the two top returning cornerbacks were redshirt freshman Chase Lucas and senior Maurice Chandler. The Sun Devils have newcomers in the secondary, their impacts are to be determined.
When fans heard and read that Bryant was playing cornerback with the first team on Tuesday, questions arose. Who was he? How did he get there? How did he jump the returning defensive backs? Is he expected to remain there or are the coaches just experimenting during the first few days of practice?
Many questions won't be answered until camp progresses, but ASU coach Todd Graham is sure of one thing.
"He's got a chance. He's a guy that's very athletic, very explosive," Graham said following Tuesday's practice. "We'll see. He's going to get a chance. He's in the mix."
Bryant was raised by his grandparents, Paul and Lucille Meyer. They took him in when he was about 4 months old. His mother was working in California, so Honolulu became Bryant's home and has been ever since.
According to Paul, Bryant's mother eventually met a man, married him and had other kids. Bryant is the oldest of her kids, but the only one from a different father. Paul said Bryant has always been a standout athlete, but his personality hasn't changed since he was a young boy playing running back for a Pop Warner team in Hawaii.
"He likes to joke a lot. He's really a bubbly type of person," Paul said. "He continues to be the same person that I know, never changed as far as not being cocky. But he's proud of what he is."
Paul said he and his wife hope their grandson earns a scholarship so he can further his education. They also want to travel to Tempe to see him play in front of ASU's fans at Sun Devil Stadium. It would provide Bryant with a piece of home as Paul said his grandson sometimes gets homesick but calls his grandfather when he does.
One reason Bryant wasn't recruited out of high school is that he was just 5-foot-6 as a senior. But soon after graduating, he had a four-inch growth spurt. And after more growing, he's now listed at 6-foot-1 on ASU's official athletics site.
Bryant called the first two days of practice "rough," but said he expected that. He played safety in junior college and is now transitioning to cornerback, where the technique is different. Safeties roam and patrol the field, but corners always need to be alert.
"As some of the camp goes on, I think he'll sharpen up his tools and become a better corner and be a hell of an asset to us as a team," Humphrey said.
When players were filing into the locker room in the new 118,669-square foot Student-Athlete Facility, Bryant wore a big smile. He's thankful for the opportunity and said he isn't complaining about anything. He's just going to keep focusing on his battle.
"I'm blessed to have the opportunity to even fight for the scholarship," Bryant said. "I'm just doing everything I can to show Coach Bennett I'm worth keeping and that I have potential to start or help out the team in any way I can.
"I could be somewhere else, not with this $60 million facility. I'm really blessed to be here."
It sure beats cleaning tables.