What has made ASU so effective in recruiting?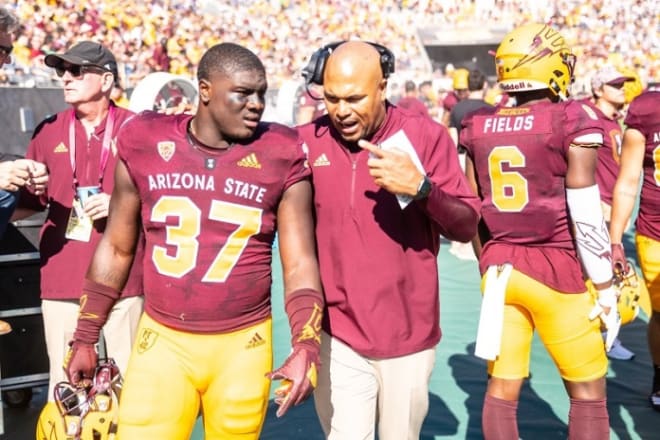 It all became crystal clear during the first practices of the Herm Edwards' tenure at Arizona State. The music that blared from the speakers during the team's stretching, that was for the players. (For example, YG's "Big Bank" has seemingly been played twice a week for the past two years).

The pre-practice song selection, though, that was for Edwards. Smooth jazz -- the 65-year old ASU's coach's favorite -- always filled the practice fields when the players stepped off the bus. (The song "Kiss and Tell" by a musician named Lebron became a mainstay).
On the recruiting trail, Antonio Pierce (AP) always tried to curry the music selection to his boss's well-known taste. New hires Prentice Gill and Chris Hawkins didn't get the message.
"They had their music on and I was like, 'Oh, I can't (listen to) this,'" Edwards joked. "I was riding with them and I didn't know where I was at. I didn't know. I know I left and six o'clock in the morning on the road in LA and I didn't know where I was at. About every hour I would call AP, 'I'm safe. I'm still OK.'"
Music choices aside, this is the new ASU, the side of the Sun Devils the Tempe program is bringing to as many high schools as possible. They're young. They're always on the road, usually three, four coaches deep at each school. And they're led by Edwards
"If you have that lead Sun Devil leading the pack, everybody else will follow," Pierce said of Edwards. "We're making our stamp and we're just getting started. That's what coach keeps telling me, we're really just getting started."
Last Wednesday, Edwards, Pierce, offensive coordinator Zak Hill and director of player personnel Al Luginbill sat at a dais and discussed the Sun Devils' 2020 recruiting class for more than 45 minutes. More so than delving into the school record nine four-star prospects that made up half of this class of incoming signed ASU freshmen, the quartet spoke of their goal.
To be a national recruiting powerhouse.
How that statement came to be, and how it turned from what skeptics saw as a fool's dream into a legitimate possibility, is worth examining.
****
ASU safety Kejuan Markham, for example, didn't know much, if anything, about ASU. It was located in the state of Arizona -- and Arizona was scorching hot. Sometimes, they played USC and UCLA. But Antonio Pierce coached there, so Markham wanted to be there, wanted to reunite with his former Long Beach Poly high school coach.
"I'm not even going to lie, I didn't know anything about it," Markham said in October. "I was just like, AP is there, I trust him."
Go up and down ASU's roster, you'll hear an abundance of similar testimonials.
Pierce was one of Edwards' first hires after he was named ASU football's head coach in December 2017. The pair were friends, as they had formed a relationship as analysts on ESPN. Additionally, Pierce won a Super Bowl with the New York Giants, which didn't hurt ASU's Pro Model structure that Sun Devils' Vice President for Athletics, Ray Anderson, wanted to establish in Tempe.
Moreover, after four years of heading the Long Beach Poly football program, Pierce knew the recruiting landscape and had a deep Rolodex of California connections. Edwards needed someone who could relate to the newest generation of football players, as he had been out of coaching for more than a decade, and out of the college game for far longer than that.
Two seasons, and two full recruiting cycles, later, Pierce has become one of the best recruiters on the West Coast. At first, many attributed his success solely to his tenure at Poly. He coached seemingly half the players he brought in and knew the coaches and/or the families of the others. Nonetheless, that thought has swiftly been disproven.
Pierce has been lauded for his ability to form relationships. With players; coaches; really anyone. His name and pedigree carry significant weight, sure. Yet, to the kids he recruits, he's not just a name. He's a presence. He shows his face. He calls. He messages them with a relentless and undeniable effort.
"I don't care where they come from," Pierce said. "It could be Alaska, it could be South America. We'll go wherever you can find them. Give me a small island and we'll get a little rowboat and we'll go out there and find them.
"That's what this is about."
And others have noticed.
Pierce's name has been rung through the rumor mill, attached with job openings across the NFL. The fear of losing him runs (if not continue to run) deep through the Sun Devil fan base. Coincidence or not, nearly every time Pierce gets mentioned with some job outside of Tempe, a new title seems to pop up on his office placard.
Linebackers coach. Recruiting coordinator. Associate head coach. Co-defensive coordinator.
"I told him yesterday, 'You've got more titles than -- what are you doing with all these titles?'" Edwards quipped. "I don't know what to call the guy."

Pierce's second title, though, is undoubtedly the most important to Arizona State.
****
In the midst of their first full recruiting cycle as a staff, Edwards, Pierce, and Luginbill were blunt. They were behind recruiting the 2019 class. Six months prior, none of them could have expected to be in college football, let alone navigating the recruiting trail on the fly.
So, they played catch up and tried to make an impact in the same areas that West Coast powers like USC and Oregon had dominated. Instead of going to visit a recruit's high school once, they'd the most allowable times they could under NCAA rules. Instead of bringing one coach to a game or in-home visit, ASU would summon four or five. And if needed, they'd caravan the whole staff.
It made an impact on ASU's perception -- with both prospects and their high school coaches.

"I don't know how many visits they're allotted, but they certainly met that quota, for sure," said Folsom (CA) coach Paul Doherty, who coached four-star signees Elijhah Badger and Daniyel Ngata. "The biggest piece of advice I give kids is you have to go where you're wanted … and it was evident Arizona State really wanted (Elijhah and Daniyel)."
Added Pacifica (CA) coach Mike Moon, who sent linebacker Caleb McCullough to ASU in December: "AP goes all in. Like he builds relationships with these kids. I can't even tell you -- he hits the max amounts of times you can come to a school, the max amounts of time you can communicate … You don't hit up a kid once a month if you can hit up a kid once a week. When you can come to campus twice, then you come to campus twice.
"For kids like ours that grew up wanting to go to UCLA and USC, when Arizona State shows up to campus five times for every one time that USC or UCLA shows up to campus, it says something to the California kids."
And when Pacifica played for the California state championship this past December, not only were the Sun Devils the only college in attendance during that contest, but they reportedly showed up in force with Edwards and six of his assistants.
California rental car companies must love ASU's new recruiting approach.
Said former Cardinal Ritter (MO) coach Brandon Gregory, who coached 2020 defensive end Joe Moore: "With Joe, he was recruited by a lot of schools. But when Arizona State is only coming to St. Louis to talk to Joe Moore, it kind of makes him feel more special. Where Kentucky will come, but they'll visit 20 different schools in St. Louis."
Added defensive back D.J. Taylor's coach at Tampa Catholic (FL), Jeris McIntyre, on why ASU is so successful in recruiting: "I just think consistently being relentless. Having a plan for (DJ) and letting him know he was a priority was the biggest thing," he said. "And you can't really beat the staff … When you can see the coaches have been there, you're going to try and follow that."
***
Pierce's task, his undertaking seemed arduous. He wanted ASU to make a splash in the California recruiting scene. In the Sun Devils' recruiting footprint (Arizona, California, and Nevada), the Golden State naturally boasted the most talent, the most four- and five-star prospects. But outsiders don't often make headways. Not with USC and UCLA in the fold as the hometown schools in the southern part of the state.
Pierce harped on his relationships in the area, his knowledge of the players being the proverbial flying under the radar recruits, the ones he thought ASU could pluck out of California. The Sun Devils started throwing up billboards on the LA freeways. They put posters in high school coaches' offices.
They wanted to stamp, or rather stick the pitchfork into the ground and mark their presence anywhere they could.
On Wednesday, February 5th, ASU was able to enjoy the fruits of its labor. The Sun Devils most recent recruiting haul ranked 25th in the country, its best finish in five years. Of the 20 commitments it took in the 2020 class (not including the five blueshirts who are currently on the roster but count towards this current recruiting class), 13 hailed from California.
Add it all up, ASU won California, landing five of the state's Top-25 prospects, more than any other school in the country.
Now that this signing marks the last one in ASU's 2020 recruiting class, the Sun Devils have inked an unprecedented 11 of the Top-100 prospects in the state of California. Uncharted waters for this program and validation for their recruiting approach. #CaliDevils https://t.co/iTw4W6USNI

— DevilsDigest.com (@DevilsDigest) February 5, 2020
It now has its sights on the country.

Pierce just returned from an East Coast recruiting trip. He went up to New York and ventured all the way down to Miami. It wasn't exactly California. He didn't have established relationships at the schools he visited. He didn't know every player, every coach, every counselor.
But he wants to.
"I told them, 'I'll be back April 15th (the first date coaches can go back on the road to recruit) -- and I'm coming back with my boys this time I'm bringing a lot more guys with me,'" Pierce said. "Because I was outnumbered by a couple of schools. I said, 'I've got you.' I'll figure this out, just as we did in California. And we'll get them."
To Pierce, consistency is the key to recruiting. That's easier said than done. As ASU's recruiting area expands, so to do the demands of its coaches. Visit 25 high schools in California -- that's tough, but not impossible. Visit 75 schools across the country -- that'll greatly spread thin your resources.
It's why ASU has hired great recruiters, even if their coaching experience may be less than others. Take Gill and Hawkins for example. This time last year, Gill was an offensive analyst at Oregon, Hawkins a grad assistant at USC. While they had no experience as full-time college position coaches, they did, however, have hundreds of high school connections and most importantly an undeniable drive to succeed on the recruiting trail. Former ASU wide receiver Derek Hagan who grew up in Palmdale, Calif. was promoted from offensive analyst to a full-time coach after proving to be a successful recruiter, despite being then in a limited on-campus role.
In essence, young guys with similar recruiting philosophies to Pierce. Edwards even called Gill "AP 2.0."
The number of successful recruiters until now may have been limited to Antonio Pierce and couple of other coaches, but that picture has changed dramatically in recent months, intending to deliver an even higher ranked recruiting class in the 2021 and beyond.
"I have about 10 guys now that are ready to run," Pierce said. "And when we hit those streets we're running. Now we have guys who aren't following but trying to catch up. And once we get everyone on the same level, you should watch out."
Join us on our premium message board, the Devils' Huddle, to discuss this article and other ASU football and recruiting topics. Not a member yet? Sign up today here and join your fellow Sun Devil fans!