{{ timeAgo('2021-04-08 13:02:15 -0500') }}
basketball
Edit
Toledo's scoring and assist leader Marreon Jackson pledges to Sun Devils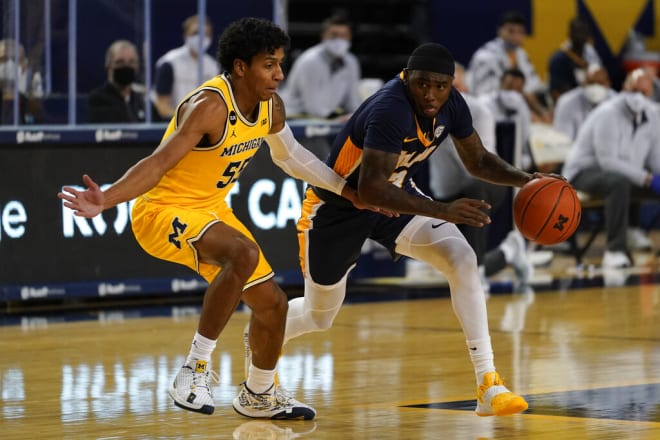 The Arizona State basketball reloading process continues as the Sun Devils today received a pledge from Toledo's Marreon Jackson, who last season paced his team with 18.1 ppg and 5.9 apg. The 6-1 200-pound guard also averaged 6.1 rpg and was exceptional at the free-throw line shooting 90.4%.
Jackson was considering Arkansas, Miami, and Georgetown as other possible destinations. Even though ASU was just a couple of days later to contact him compared to his other suitors, the fact of who contacted him first from that program made a significant impression.
"With everything being virtual, I really just had to make my decision based on how consistent teams were with calling me, making me feel like a priority," Jackson explained. "Bobby Hurley, he called me himself. He was the first one to call me from Arizona State personally. Since then, right after he called me, he sold the program really well. And obviously, his background being the point guard at Duke and winning national championships.
"Talking to him, it was genuine. He needed and wanted me. He told me how he could help me get to the NBA, which is my goal. That's the main reason for me coming back (to play another year of college basketball) is to reach that goal, get more exposure at a bigger stage. People know about me here in the Midwest, and I want to get exposure now on the West Coast."
As a Junior, Jackson earned Second-Team All-MAC and Second-Team NABC All-District 14 honors, setting school records with three-point field goals in overall games (99) and league games (63). The guard also led the Rockets with 146 free throws and 179 free throws made. Jackson, who prepped at Cleveland's Garfield Heights High School, had a formidable first year with Toledo as he was named to both the MAC All-Freshman Team and MAC All-Tournament Team.
"I can bring leadership," Jackson described, "and leaders need toughness, and that's what I did at Toledo. Now I'm just going to do it on a bigger stage. I would say I'm a dog. Real simple, I'm a dog. I go get it, ball in the air we need to get it…I just do whatever my team needs."
Jackson said that he was familiar with the ASU program from years past, especially with the play of outgoing senior point guard Remy Martin and that Sun Devil team from two years ago ("that was a killer team.). He looks forward to now living in the Phoenix metro area and coming together with his new teammates, some of them high caliber transfers like himself.
"I'm just ready to go," Jackson stated, "ready to work day every day with them to make this run at this NCAA tournament."
Jackson has one year of eligibility left and is expected to arrive in Tempe in the summer. The guard is Arizona State's eighth addition in the 2021 recruiting cycle, joining fellow transfers Boston College guard Jay Heath, Robert Morris forward AJ Bramah, who made his decision yesterday. Other additions are signees Justin Rochelin, Will Felton, and Demari Williams, as well as fellow commits Enoch Boakye and Jamiya Neal.
Join your fellow Sun Devil fans on our premium message board, the Devils' Huddle, to discuss this article and other ASU football, basketball, and recruiting topics. Not a member yet? Sign up today here and get all the latest Sun Devil news!