Sun Devils excruciating wait ends with an NCAA Tournament bid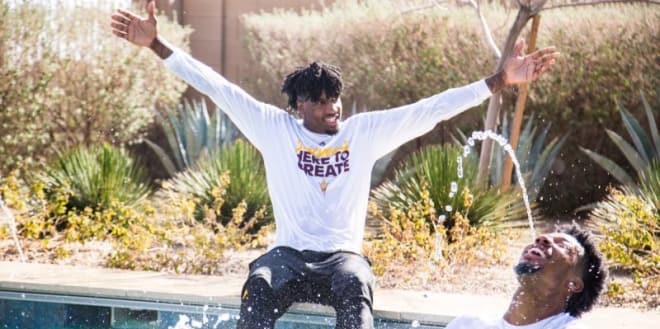 Arizona State's excruciating three-day wait ended in one ebullient moment on Sunday afternoon.
At 3:08 p.m., the maroon and gold Sun Devil pitchfork swiped onto the television screen in coach Bobby Hurley's living room, confirming ASU's place in the NCAA tournament and sending his team – which was huddled around him in his house – into a celebratory frenzy.
Hurley threw his arms in the arm, racing to embrace one of his senior guards, Kodi Justice. Another fourth-year Sun Devil, Tra Holder, broke down crying and collapsed to the ground. The whole team dove into Hurley's pool, splashing away the nerves and doubts of a paralyzing and anxious week.
"Believe me, it's been an excruciating three days," Hurley said.
Turns out, Hurley's instance that ASU's elite collection of victories would be enough to lock up a tournament bid was correct. The Sun Devils are going dancing for the first time since 2014.
"Our mission was to get into the NCAA tournament and we accomplished that, it's a tremendous feeling," Hurley said, meeting with reporters a little more than an hour after the Selection Show at the Sun Devils practice facility at the Weatherup Center in Tempe.
A lot had transpired since ASU crashed out of the Pac-12 tournament on Wednesday. Most of championship week's developments had worked against the Sun Devils too, who did themselves no favors by losing four of their final five games before Selection Sunday.
San Diego State and Davidson stole bids by winning their conference tournaments. Rival bubble teams Alabama, Texas, Syracuse, Louisville, UCLA and USC all won games in their own tournaments to bolster their resumes. The Sun Devils were forced to watch, and wait.
"We knew it was going to be a very close decision," Hurley said. "I'm thankful that we played the schedule that we played and we had the success that we did."
Translation: Hurley was thankful his team's resume included wins over one-seeds Kansas and Xavier.
As selection committee chairman Bruce Rasmussen explained on the TBS Selection Show Sunday afternoon, it was those victories that helped keep ASU – once a top-3 team in the country – in the final field of 68.
"If you look at their wins – and we look at teams in the tournament, we look at caliber of wins a team has – they had a couple outstanding wins early and they had enough on their resume that the committee felt that they needed to be in," he said.
Rasmussen's rationalization for ASU's inclusion was almost a carbon-copy of the argument Hurley had repeatedly made in recent weeks. The third-year coach thought the Sun Devils were tournament-worthy even despite their first-round Pac-12 tournament loss to Colorado and overall meager performance in league play.
He was right. Most national bracket-makers were wrong (ASU was included in just 42 of the 84 brackets surveyed by BracketMatrix.com).
"Even though it was not looking promising an hour before (the selection announcement), we still held out hope our quality wins…would pay off," Hurley said. "They did."
The wins against Xavier (on a neutral court) and at Kansas helped the Sun Devils soar to a 12-0 record, a streak out of the gate that put ASU in top-seed consideration; any thought of it slipping to the bubble was virtually non-existent.
But the pressure of the program's best-ever start weighed on the Sun Devils during an 8-10 Pac-12 campaign, coming to a crescendo in Las Vegas on Wednesday in a season-worst 12-point defeat to Colorado.
Once a win away from becoming the top-ranked team in the country, Hurley spent his final days before Selection Sunday scouring over a list of fellow bubble teams that might have knocked the Sun Devils out of the tournament altogether.
"You put yourself through hell," he said. "I put us in that position unfortunately where we had to scramble and we didn't close out some games that we could've closed out. It wouldn't have been as hard on us. I had to suffer and put myself through that."
They have been granted a chance to recover from their late-season crumble.
"We came full circle," Hurley said. "We survived, we pushed through, we lost a lot of close games, went through a lot of things. Now we have a chance – for anyone who would question we would be in the field – to go prove ourselves, why we belong."
Leading that redemption tour will be his group of seniors, hungry for postseason success after they almost squandered their last chance to finally take the program into the Big Dance.
"We are the hunter now," Justice said. "We are going to hunt people; we are going out to play. We are not holding anything back. We had a bumpy end to the season, so we have more to prove."
Justice added that he watched as much of championship week as he could, trying to follow the action on the bubble. Holder, on the other hand, didn't watch a single game until Saturday night. On Sunday, he was too afraid to even look at the TV when ASU was announced.
"It's been a journey," he said. "We felt like we were on the top of the world and then we felt like we were competing for our lives."
The late-season skid wasn't without any punishment, as the Sun Devils will be forced to play on Wednesday in the First Four against Syracuse – another team that was supposed to be left out of the field.
But March is March. It might have taken a measure of luck, but the Sun Devils are still playing.
Said Hurley: "If you're in the tournament, that's all that matters."