Sun Devils add sleeper athlete Pedroza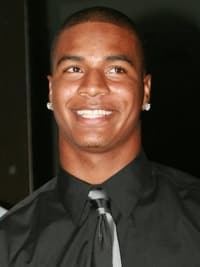 Don't blame college recruiters for getting a late start on
Quinton Pedroza
. After all, the Chino (Calif.) High School standout didn't have any junior film to show anyone nor did he make any appearances at high profile events over the spring and summer months.
In fact, until a couple of months ago nobody in the football recruiting world had even heard of him at all.
The reason?
Pedroza never played organized football until his senior season. But now that he has, look out.
Playing receiver, safety and return specialist, Pedroza was arguably Chino's Most Valuable player on a team that went 11-1 and was considered by some to be the biggest surprise of the region in 2010.
The 6-foot-3, 205-pounder, a baseball player only until friends and coaches convinced him to give football a shot, had 54 catches for 1,078 yards and 16 touchdowns and 67 tackles with four interceptions in his lone high school season.
Those numbers would be impressive for anyone, but for a guy playing for the first time they're remarkable.
"I always liked to play with my friends just for fun," Pedroza said. "So I just looked at like that when I went out to play for the high school team and it just worked."
It really, really did.
Arizona State coach
Steve Broussard
visited Chino in December and was told of Pedroza by Chino first-year coach Matt McCain, Pedroza said. After finally getting a look at film, Broussard made a return trip in January and offered Pedroza a scholarship.
Even though Pedroza said he also had offers from Boise State, Utah and Utah State, and has yet to see the ASU campus, he was quick to make a verbal commitment late last week.
"I always liked ASU and kind of wanted to go there," Pedroza said. "It was because I'm big into baseball and they have a great baseball team, but now that I'm playing football, I still feel the same way."
Pedroza said he's unsure if he'll play both sports in college. He'd like to but he plans to be a football player first. Where he lines up also is yet to be determined, he said.
"They like me as a receiver and as a safety," Pedroza said. "Right now they're just recruiting me as an athlete and said they'd see how it plays out when I get there. I probably prefer playing receiver a little more because I like to score touchdowns, but I like to hit too and get interceptions so I'm fine with it either way. It's whatever they think I'll be best at."
Pedroza said he's looking forward to taking a trip to ASU in the near future and he's not planning to make other official visits before the start of the signing period. He's had conversations with Broussard about whether he will enroll at ASU in the summer or be a greyshirt with a delayed enrollment until January and at present it's undetermined.
"Coach Broussard talked to me about it and said it just depends on how things play out with recruiting," Pedroza said. "At first I wasn't sure about (greyshirting) but my coach said it's just something that would give me more time to get ready academically and things like that so I'm fine with it if that's what ends up happening."