Sources: Sumlin Arizona States top target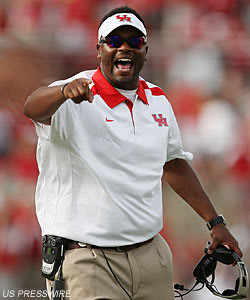 The Internet has been ablaze with rumors of ASU's interest in Sumlin for weeks and a source close to Sumlin said the two sides have had an ongoing dialogue that began after the Sun Devils lost at Washington State on Nov. 12.
An ASU athletic department official, speaking on the condition of anonymity, confirmed that Sumlin is the school's top candidate in the wake of Monday's dismissal of Dennis Erickson, who is 31-30 in five years at the school and will coach the team in its bowl game.
Sumlin, 47, is a high-profile commodity who figures to be mentioned in connection with a number of jobs around the country due in part to his team's 12-0 record and No. 6 rank in the latest BCS Standings released this week.
Sumlin is interested in making a move this offseason, according to a source directly familiar with his thought process, in order to capitalize on his current market value. ASU and UCLA are his most preferred destinations among currently vacated jobs. UCLA has also reached out to Sumlin and engaged in premliminary talks about its job according to the source close to the coach.
Texas A&M may become a strong candidate if it elects to fire embattled coach Mike Sherman due to Sumlin's experience as co-offensive coordinator at the school in 2001-02 and his family's positive view of College Station, Texas.
In his first head coaching job, Sumlin is 35-16 in four seasons at Houston. This year, his team ranked as the national leader in numerous offensive categories including scoring offense, averaging 52.6 points per game, and total offense, averaging 613 yards per game.
ASU Vice President of Athletics Lisa Love wouldn't comment Monday on individual candidates for the job, but said the school is not initially retaining the services of a coaching search firm, as is frequently done in such situations.
"To the end we utilize a search firm, that depends as we go down the road if we think there is added value," Love said. "If we think a search firm can bring us something other than what we already know, that we'll consider that, but right now there's no plans to necessarily employ a search firm."
A search firm would likely only be used, according to the program source, if ASU can't secure a contract with Sumlin and maybe not even then. Several backup candidates are also very intriguing to the department, most notably Southern Mississippi coach Larry Fedora, who also runs a one-back offense.
"I'd also like someone who is in our beautiful metropolitan area, someone who is dialed into our community, someone who is comfortable being the ambassador of Arizona State because he is our head football coach," Love said. "I think that person can mean just endless successes and scores endless for our University out in the public eye."
Sumlin, by all accounts, is a person who would fit those characteristics perfectly and also enable ASU to have a shot at holding together its impressive recruiting class -- which currently includes 20-plus pledges -- particularly on offense.
Sumlin's relationship with Mazzone could further increase ASU's odds at maintaining a solid class, particularly if Mazzone is kept on at the school in some capacity. When reached for comment Monday, Mazzone said that he'd be very interested in remaining at the school in the right capacity, either in his current role as offensive coordinator, or perhaps as a quarterbacks coach and Assistant Head Coach.
Currently, Sumlin's contract calls for an annual salary of approximately $1.1 million dollars annually, with a buyout that is believed to be very reasonable. ASU is expected to be willing to pay north of $2 million for the right candidate, and also substantially increase its staffing salaries.