Short-handed Sun Devils edged in overtime loss to UCLA, 81-75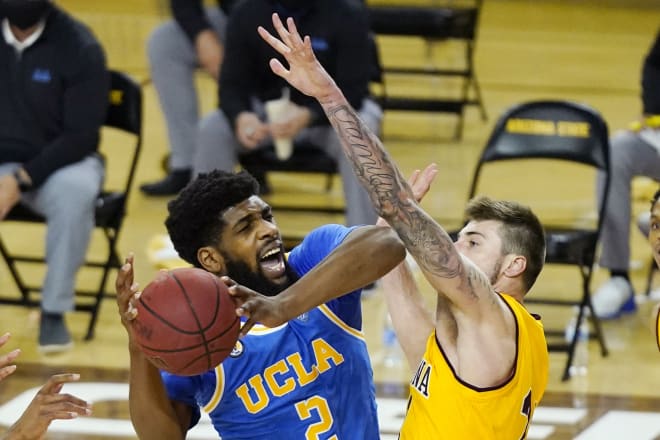 Fresh off a three week pause due to coronavirus problems within ASU and its opponents' programs, Arizona State battled Thursday night. For forty minutes, the Sun Devils – equipped with just eight scholarship players – matched up with the only other unbeaten team in the Pac-12 conference.
As has become usual in a season of unusual, Arizona State did not have its full complement of players Thursday night in its return to game action. Earlier in the week, head coach Bobby Hurley hinted at changes to the lineup and tweaks to the playing rotation. Due to circumstances out of his control, Hurley lacked the lineup options to make apparent his desired tweaks.
Preseason All-American guard Remy Martin returned home to attend his grandfather's funeral, sophomore forward Jalen Graham was out with mono, while guard Jaelen House and forward Taeshon Cherry were out due to a non-disciplinary, non-injury issue, a designation that by now is all-too-familiar for this Sun Devil squad.
"I think back to some really good moments when we were at full strength and the promise that was there," said head coach Bobby Hurley amidst a 4-4 start (1-1 Pac-12) to a season which saw the Sun Devils enter the year ranked 18th in the Associated Press' preseason poll. "We've had to deal with everything that we've dealt with. It's not easy. As a coach, you want routine, you want structure, you want preparation and the guys to get into a great routine.
"We've been out of rhythm with our routine and not having multiple key players is also an issue just in terms of playing an overtime game like this. What do you got left in the tank for that additional five minutes?"
What was left in the tank for ASU with the game tied at 65 entering overtime, left little resistance for a worn-down Sun Devil defense. The task asked of a Sun Devil lineup, which saw four players clock in more than 40 minutes, was too much, allowing the Bruins (9-2, 4-0 Pac-12) to score 16 points in the overtime period to defeat Arizona State, 81-75.
In the extra five minutes, UCLA was able to score at will. Junior guard David Singleton knocked down both of his 3-point attempts, and redshirt junior forward Cody Riley took advantage of a depleted ASU frontcourt to score eight points of the Bruins' 16 points in overtime.
"I thought we did a good job, especially through the regulation, to dig in the post – we were able to create 18 turnovers in this game without pressing UCLA very much in the game," Hurley said, pleased with the defensive effort of his team. The Bruins entered Thursday night averaging 11 turnovers per game and had 11 turnovers in the second half alone against ASU. "I'm not sure if Riley kind of wore us down as we got to overtime. We didn't handle him as well at that portion of the game."
The Arizona State offensive effort was far from efficient in the absence of their senior leader. Without Martin, guards Alonzo Verge and Josh Christopher took 46 of the Sun Devils' 72 shots. Playing all 45 minutes, Verge took 22 shots and scored a game-high 25 points. Christopher took a team-high 24 shots, making nine while missing all six of his 3-point attempts en route to a 22-point, 11-rebound performance.
"This hasn't been an easy season, but I feel like my growth showed just throughout every game that we've played," said Verge, who made two free throws with five seconds remaining in regulation to send the game into overtime. "Regardless of Remy (being) here or not, I'm going to do what I do. That's something that I've always done, but I did feel more expectations."
After Verge and freshman forward Marcus Bagley made the first two 3-point attempts of the night, the Sun Devil offense went cold in the opening half. Exactly 10 minutes of game action – and 12 straight misses from the field – later, Bagley's second 3-pointer ended a drought and cut the early deficit to 20-15.
Arizona State's offense relied again on the jump-shooting of the Sun Devil guards without a reliable interior presence. For all ASU's struggles offensively, the Bruins were unable to distance themselves from an undermanned and underprepared Sun Devil group, allowing Hurley's group to head into the locker room leading by two points.
"I think that's where the growth potential is still there, too, for our team," said Hurley of the Sun Devils after a 6-for-26 shooting performance from beyond the 3-point line. "Our offensive game, our percentages weren't great, yet we hung in there. I think there are some guys that can shoot better percentages than we shot tonight, and I think we'll get there.
"We're on the right track."
Added Verge: "I feel like we should have won this game."
Unclear whether or not Martin, Graham, House, or Cherry will return for Saturday's matchup with USC, the Sun Devils will be asked to respond less than 48 hours after a 45-minute contest. If it is another undermanned Arizona State effort, they'll do so with tired legs following a night which saw forwards Chris Osten and Kimani Lawrence foul out against the bruising inside attack of Cody Riley and Co, and the ASU offense shoot 23.1 percent from deep.
**
One of Osten's five fouls came via a technical assessed to the Sun Devil forward after a dunk in the first half. Late in the second half, senior guard Holland Woods was whistled for a palming violation, leading Hurley to earn a technical foul, which he disputed postgame.
"Carries are rarely called. You might get one every couple of games, so it was an unusual time for that, so that was maybe the source of that frustration," explained Hurley. "I did yell, but I didn't say anything to the official. I stared at him, which that got me the [technical]. Maybe it's an accumulation of sins there. That would be my best guest.
"I was told [Chris Osten] turned and looked at [the UCLA defender], and that got him the technical."