Shane Dezonie visualizes a good fit with Arizona State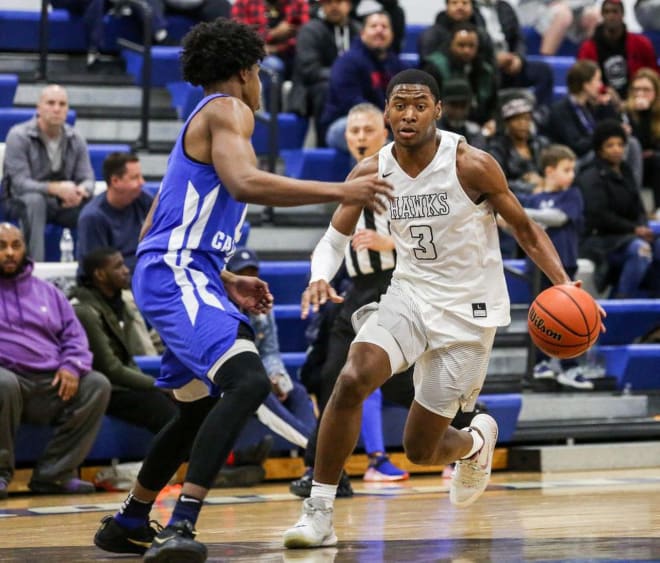 In an era of an extended recruiting dead period, positive relationships between prospects and colleges can still form in a hurry even if that relationship, strictly virtual and all, was formed just a few days ago. ASU offered Top-100 guard Shane Dezonie a scholarship in their first phone call between the two over last weekend. A strong and early impression now has the Brewster Academy (NH) standout wanting to learn more about the program.
"I talked to coach (Rashon) Burno a few days ago," Dezonie said. "He was explaining their system and how Arizona State plays. He showed me how I fit into the system, knowing that they play three guards. They like getting up and down the floor, and I see it as a good fit because I really want to play in the transition, and I feel like they would really match my play style.
"My strength on defense is being a leader on defense. I feel like I could help my teammates because I really take pride in my defense. I feel that's the main part of really winning games and championships is just playing good defense. If you lock down your man, they don't score. Then you just got to capitalize on that end and score. The (ASU) coaches said they like that I have the defense part added to my offense. They feel I can really fit into the system knowing that when I come in, they still have (transfer) Luther Muhammad, another player that I also play like."
By his own admission, Dezonie didn't know the Sun Devils all that well because he hasn't researched the school or the team until this week. Dezonie who lives in New Jersey and prior to plating at New Hampshire's Brewster Academy playing in West Virginia's Huntington Prep didn't feel as if any Pac-12 school would seek out his services.
Nonetheless, as he familiarizes himself with ASU, Dezonie was pleased to learn that it was a program that can produce elite players at the NBA level, and the league's 2017-18 Most Valuable Player.
"It does inspire me knowing James Harden played there," Dezonie noted. "He shows you that if you play the right way and playing in the right system, you have an opportunity to go to the league. So I feel like if I go there (to ASU), and buy into the system, I feel like I should be good."
Kansas State, Indiana, Iowa State, and Arkansas are the schools the guard signaled out as recruiting him the hardest along with Arizona State. Dezonie added that most schools offered him in the last two months before the breakout of COVID-19 but that he hasn't had a chance to visit any of those programs before the NCAA disallowed official visits. Like any most prospects in his class, the virtual means are utilized heavily in the recruiting process.
"Coach Burno did a Zoom call with just me, him and my mom," Dezonie remarked. "I think later on in the week, coach Hurley is going to call me, and have my mom and my dad on the Zoom call. When I told my family about the Arizona State offer they were just so happy about it because they knew like Arizona State's a great program. Me not looking into the Pac-12; I was kind of shocked. I was like, 'wow, this is really a big offer for me.' I was grateful.
"I just always thank God when I wake up and just remain humble and grateful for the opportunity that he gave me."
Dezonie said that he has no timeline for his decision and didn't rule out signing in April of next year rather than this coming November. He's hoping to visit the school recruiting him before he makes a commitment, but due to the current unique recruiting landscape, he's fully prepared to pledge to the school of his choice without having a chance to see them in-person first.
"I want to go to a school where the coaching staff and players feel like family," Dezonie said. "I also want to play early obviously."

Jesse Morrison contributed to this article.
Join your fellow Sun Devil fans on our premium message board, the Devils' Huddle, to discuss this article and other ASU basketball and recruiting topics. Not a member yet? Sign up today here and get all the latest Sun Devil news!