Kelly likely to miss at least two games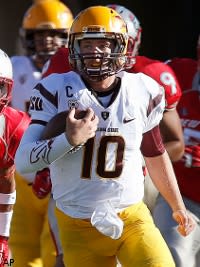 Arizona State senior quarterback
Taylor Kelly
is expected to miss at least two games with a foot injury, according to multiple sources directly familiar with the development.
Kelly will not play in ASU's home game against UCLA Sept. 25, and is extremely unlikely to play at USC Oct. 4. A return against Stanford following a bye week on Oct. 18 is very possible, but will depend on how his foot heals.
It is also possible Kelly could miss additional time if his foot does not heal on what one source said is, "an achievable, but optimistic timeline."
A third-year starter, Kelly set a school record last season for completion percentage and entering 2014 had thrown more touchdowns in a two-year period than any ASU quarterback before him.
Kelly injured his right foot late in the third quarter of ASU's 38-24 win over Colorado Saturday in Boulder while running from pressure. He was hit and tackled by Colorado defensive end Derek McCartney on a seemingly routine play.
But Kelly was limping as he got to his feet, then hobbled off the field on his own, and soon thereafter left the playing field.
When he returned to the ASU bench, Kelly had his right foot immobilized in a walking boot and was using crutches to move around. He watched most of the fourth quarter while sitting on the team's training table, a towel around his neck and partly covering his head, a dejected look on his face.
ASU head coach
Todd Graham
did not provide details on Kelly's injury or recovery time following the game and hasn't commented subsequently.
The No. 15 Sun Devils (3-0) host No. 12 UCLA (3-0) a week from Thursday in the first regular season game at Sun Devil between two ranked teams since 2007.
Junior quarterback
Mike Bercovici
will get his first career start for ASU in the game. He is inexperienced, with 27 career passing attempts, but a co-captain along with Kelly, and a graduate student who is taking classes at ASU's Law School.
Kelly's injury comes at a bad time for ASU, with three ranked Pac-12 foes in a row on the team's schedule starting Sept. 25 with the Bruins.