JUCO transfer Spight could have an immediate impact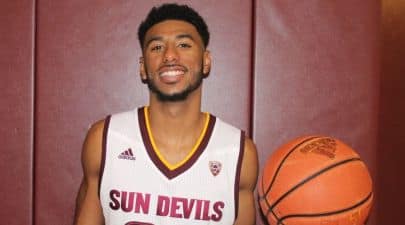 Arizona State has had much success exploring the junior college ranks in recent years, signing prospects like Carrick Felix, Shaq McKissic, Savon Goodman and Gerry Blakes.
And if he has his way, the next JUCO standout to make an impact at ASU will be junior guard Andre Spight. The 6-foot-3 combo guard is equally comfortable playing off the ball or running the point, and is one of the best shooters on this year's roster.
"I'm comfortable anywhere on the floor," said Spight. "I can pass the ball, dribble, and spread the floor with my outside shooting."
ASU head coach Bobby Hurley said Spight has looked impressive in summer workouts.
"I love what Andre brings to the table with his ability to handle the ball and score," Hurley stated. "He has made a strong impression on me thus far."
Spight, who originally signed with UTEP out of high school, failed to qualify academically and decided to enroll at South Plains College (Texas) in 2013. That detour turned out to be a blessing in disguise for Spight, who had a successful stint at South Plains. He guided the Texans to a 58-13 record over the last two seasons.
"My experience [at South Plains] was great," Spight said. "I learned a lot from the coaches there. And we had a really good run while I was there. We didn't lose many games."
Spight hopes to bring that winning culture to ASU and said he is looking forward to playing with his new teammates.
"Looking at our guards, I think I'll fit nicely playing alongside Gerry Blakes and Tra Holder," Spight explained. "We're all competitive guys and we work well together. I'm excited to play with them."
That scenario is certainly plausible considering Hurley's track record of playing small ball. He often started three guards at Buffalo, and while nothing is set in stone, Hurley said he would be open to a smaller lineup here at ASU.
"I think we have roster flexibility which is great," Hurley said. "It gives me a lot of ways to work guys into the lineup and use different combinations of players. So [playing small ball] is certainly on the table."
"Based on our system, we could go bigger or we could play with three smaller guards," Hurley added. "It's really dependent on the situation and how the guys are playing, but it's certainly a possibility."
Regardless if he starts or comes off the bench, Spight is expected to be part of the regular rotation this season, and brings a much-needed scoring punch to the Sun Devils.
"He scores at a high level," said Brad Winton, a longtime scout and publisher of JucoRecruting.com. "He [has a] very quick release on his jumper, good handle, and can score in a variety of ways - off the dribble or pulling up for a jumper."
"He can get a shot off at any level and that's huge," Winton added. "It's hard to find can guys that can shoot and do other things as well."
Winton's website released their annual top-100 JUCO player rankings in May, and Spight was listed as the No. 10 prospect in the country. Winton said Spight is a talented player, who should have an immediate impact for ASU this season.
Spight, who signed with the Sun Devils last November, was originally recruited to ASU by former coach Herb Sendek. After the coaching change in April, there was some fallout with various players transferring out of the program and recruits rescinding their pledges.
However, Spight stayed firmly committed to ASU, primarily because of the Hurley hire and the opportunity to play in an up tempo offensive system, his preferred style of play.
"It feels great [to be coached by Hurley] because I know he can teach me a lot of things," Spight stated.
"I love playing up tempo basketball, a faster style, that's my game. Run-and-gun, catch the ball on the wing and drive, catch the ball on the fast break. I'm a crowd pleaser, so I'm excited to play in this system."
Spight said he is anxious to begin his Sun Devil career, but will never forget his JUCO roots.
"I most definitely have something to prove [coming from junior college]," Spight explained. "I think I have a chip on my shoulder and I'm ready to show people I belong here. "
Click
Here
to view this Link.