{{ timeAgo('2022-08-05 21:30:22 -0500') }}
football
Edit
Henderson urges the defense to have a sense of urgency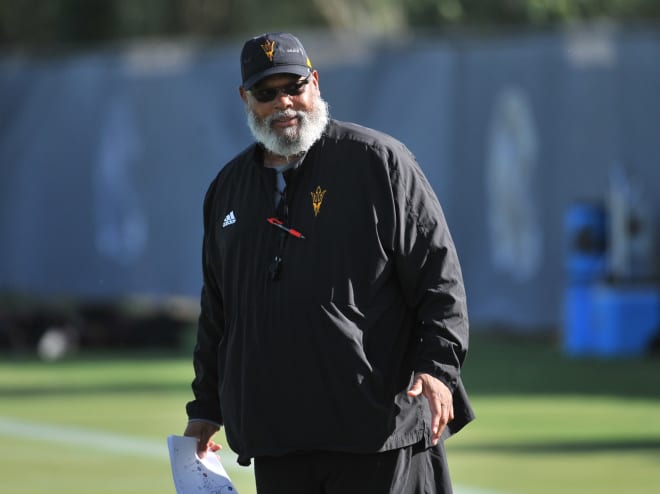 You may be hard-pressed to find more than a few underclassmen on ASU's defense initial preseason camp two-deep, and the majority of the players who fit that description certainly have some considerable millage under their belt. But even with that level of experience, the Sun Devils' defensive coordinator Donnie Henderson wants his group to exhibit the caliber of leadership that should match that veteran element.
"It's got to be today, not later," Henderson said of the unit's leadership and its effect in practice. "The longer you wait, the worst it gets, so you recognize that and get it right."
Henderson stated that he didn't spare any criticism even when it comes to the captains, such as senior linebacker Kyle Soelle who is entering his sixth year at Arizona State. On the other hand, Henderson noted that true leadership should be more broad-based than just a few team captains.
"I think what the kids see is that he's been here so long. He's the middle linebacker they usually establish the tempo most of the time," Henderson remarked. "We got a whole lot of other leaders, though. We actually got a leadership group of, I would say, 8-10 players on both sides (of the ball), and they come together, and they run the team, basically."
And until the leadership level reaches an optimal level in Henderson's eyes, he does his part by being demonstrably vocal as he has been in the first two preseason sessions.
"I was trying to set the tempo, really. My voice carries, and sometimes it seems like I'm real frustrated," Henderson admitted. "It gets louder and louder. I think what I was trying to do is make a point of, 'Let's run on and off the field.' I didn't ever use the word hustle. If I did, that's a mistake for me. But like I told the coaches and the players, 'When I start raising my volume, my voice, hear the message. Eliminate the noise, just hear the message.'"
Ever since the departure of defensive tackle Jermayne Lole, an intriguing battle for that starter role has been brewing by a pair of sophomores in Omarr Norman-Lott and BJ Green. The tandem made the best of their opportunities last year, with Norman-Lott posting 30 tackles, four of them for a loss in 11 games, while Green ended his freshman campaign as the team's sack leader (five). Nonetheless, Henderson feels that the mentality of one of them or both will have to change if and when they assume the starting role.
"When you're a backup player the year before, you don't get all of the opportunities to participate," Henderson commented, "and all of a sudden, you're the guy now. And those guys have established themselves with the reps they had last year, playing minimum snaps. You just look forward to those guys keep progressing to the point where you can depend on them. They haven't played a game, and they work hard in practice. They do everything you ask them to do, and you got to be excited about that, and I am."
Henderson said he was impressed to see both players show up at the football facility as early as 6 a.m. on the weekends, which naturally demonstrates their drive and work ethic.
"It's amazing they're out there working on the sleds," Henderson described, "and those are good signs. You say, 'Ah, I wish they would do it, but they ain't going to do it.' But those type of kids that when the lights come on, so to speak, now all of a sudden to be in that starting position and try to continue improving your skills."
And generally, when it comes to the depth chart at any role, Henderson is a firm believer in constantly experimenting in the first couple weeks of preseason camp and not reaching close to giving an appearance of any roles that are set in stone during the first several sessions.
"I don't want to create that problem right now," Henderson said. "You got to be careful sometimes with the depth chart. The kids only realize one thing: 'how many reps am I getting?' So what I try to talk about is, 'Don't worry about the reps. It's when you have a rep, make sure you're doing the best that you can with your reps.' The competition is really good with the safeties and the corners that we've brought in and the guys that have been here. We're moving a few guys around, and we're trying to make sure that we a get a look at a bunch of combinations if that makes sense."
***
Speaking of depth charts, surely there is no position battle that is more under the microscope in camp than the competition for the starter at quarterback. Offensive coordinator Glenn Thomas knows the tightrope act he has to walk in trying to provide ample opportunities to all the signal callers vying for a chance at a permanent first-teamer status and effectively narrowing down the field to focus on your likely starter and backup.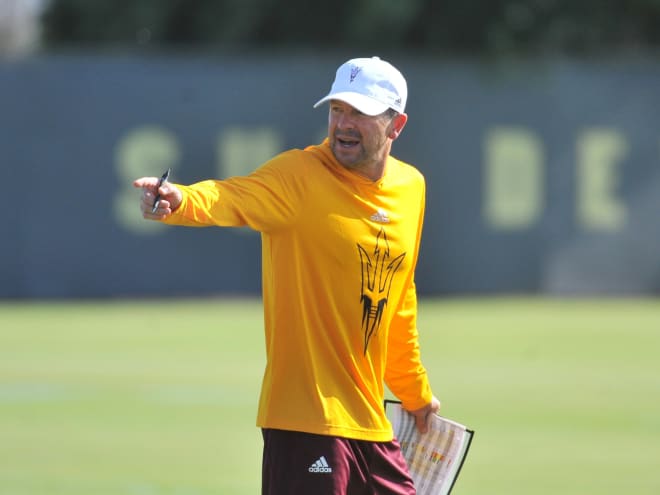 "Hopefully, that comes a little sooner than later," Thomas said of the timeline to name a starting quarterback. "In the spring, obviously, you had some luxury of spreading it out and not making the quick decision. But I think you have to be over-conscientious as a coach as far as scripting. 'Hey, I want these guys to get these certain reps.' Whether it be a scheme or a number of reps with the 1's, with the 2's. So we're overly conscientious of the guys we have in there with a certain scheme to try to accelerate that process. So hopefully, sooner than later, we can make those decisions.
"I'm just excited of where all of them are at, to be quite honest. I think they're really supportive of each other. We've been really fluid in the rotation we've talked about. They've been all on top of it when they're in there because it's hard as a quarterback when you're in there three plays, and you don't get in there for nine more plays. You really gotta be locked in. Most of those guys try to get mental reps as it's happening. Sooner than later, we'll have to scale back and really nail it down. I think they're all in a good place that way as far as where we're at from an installation standpoint now as the reps are piling up, we have to separate it out."
Thomas wouldn't state whether there is one defining trait that can and will separate a starting quarterback from his backup, but rather a gamut of characteristics that often determine the pecking order.
"There could be leadership, there could be obviously physical production," Thomas noted, "and ideally, you'd like to have both. Obviously, physical production, efficiency, consistency on the field, and then the impact and leadership in the room. That's probably the ideal setting, but I wouldn't say there's one particular thing. At the end of the day, who's gonna put us in a position to win games, to move the ball? That's gonna be out there."
Most of the 43 newcomers on the 2022 Sun Devil roster have been added to this side of the ball, and the transfer portal was instrumental in ASU's ability to have that many players arrive in the last seven months. Thomas said that the influx of players who are new to the program but hardly new to college football has created a dynamic that has been able to smooth the acclimation process for many of these arrivals.
"I think we've really reaped a lot of benefits from that perspective," Thomas said of the transfer portal. "They (transfers) have experience, a foundation under their belt, and they have an urgency. They're coming here to win; they're coming here to make an impact on this team, not only on the field but in the locker room. So you see that proactive personality, 'Let's make this thing happen. Let's not do it tomorrow; let's do it now. I'm coming here to do good things here.' That's really helped us not only offensively but also as a team."
Needless to say that a large number of newcomers to any team raises concerns about cohesiveness and how quickly this significant ingredient for a successful squad can be achieved. Thomas stated that he had been impressed with the high level of camaraderie that has already taken place despite the novelty facet which defines the 2022 Sun Devils.
"Obviously, we're in unprecedented times as far as the newness of a roster per year," Thomas admitted. "So it's hard to compare maybe how it was last year versus this year. But I think probably Joe (head strength and conditioning coach Joe Connolly) in the weight room could speak to it more with the transformation he's seen. Those guys have really collectively come together. And if you have the same goal and everybody's fighting in the same direction, we're in good shape. So I think we're in a good place like that, and I look forward to building on that moving forward."
And regardless of how many newcomers you may have, getting on the same page isn't only exclusive to executing plays but also encompasses reducing the number of mishaps, specifically penalties, an area of concern for ASU last season, which ranked last in the Pac-12 and fourth worst among FBS teams in penalties committed.
"It's a point of emphasis for sure," Thomas remarked regarding penalty reduction. "We're two practices in; we haven't had a false start yet. Things like that, we'll congratulate and acknowledge successes. And then obviously, if we're not getting it done, we'll have to talk about it, show it, give illustrations on video, pictures, or whatever. So we put it out in the forefront, talk about it, and then hopefully, we see the (corresponding) performance on the field. But I think we're definitely heading in the right direction. They're getting it both offensively; coach Herm is talking about it on the team; we have officials out there every day. So it's been addressed aggressively, and we're seeing improvement that way."
Join your fellow Sun Devil fans on our premium message board, the Devils' Huddle, run by the longest-tenured Sun Devil sports beat writer, to discuss this article and other ASU football, basketball, and recruiting topics. Not a member yet? Sign up today here and get a free trial until Sep. 1st!!!