Goodman discusses ASU commitment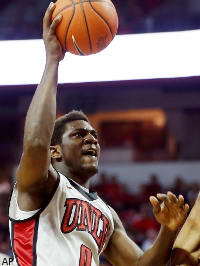 Former UNLV player Savon Goodman has committed to Arizona State and will have three years of eligibility to play three seasons at the school after sitting out 2013-14 while attending classes at Indian Hills Community College in Ottumwa, Iowa.
Goodman, the No. 72 overall recruit in the 2012 class, is a 6-foot-6 combo forward who picked ASU over Oklahoma. The Sun Devils recently hired former Indian Hills coach Barret Peery, who led the school to a NJCAA championship game berth, to its staff.
"I liked the coaches," Goodman said. "They just made it feel like a family atmosphere to be honest. I've been to a couple other schools and stuff but it just felt like a place where I can play my game, where I'll be comfortable playing. I felt like the offense will be good for me. I felt like the coach has a lot of confidence in me and they treated me like family. That was my whole big ordeal, going to school, I just wanted to go somewhere that is a family with the coaches."
As a freshman at UNLV in 2012-13, the 215 pound Goodman came off the bench to average 3.6 points and 2.4 rebounds. He's known as a tough and versatile defender and rebounder who likes to mix it up and can play above the rim in transition.
"I'm more of a quiet winner type guys," Goodman said. "I'm not a guy you recruit because he can hit a three from half court or dribble through 10 guys and score. I'm going to accept my role. I know the coaches have confidence in me offensively and defensively. I can guard a one through four. Just being intangible on the defensive end is going to help us. We can go big, go small, so it just fits really well for me, the scheme."
Goodman transferred from UNLV after an arrest that led to a guilt plea to petty theft and trespass charges. He said he's grown a lot in the last year and appreciates the confidence ASU coaches have in him.
"This opportunity I don't take for granted for one second," Goodman said. "I know how it felt to sit out for a year and not play because you made a stupid decision. From this point, everyone makes mistakes and I'm not looking back on mine and I'm ready to just get out there and play basketball again and make good decisions."