{{ timeAgo('2021-04-07 19:23:03 -0500') }}
football
Edit
Four-star OL has ASU is in his top three, will visit Tempe in June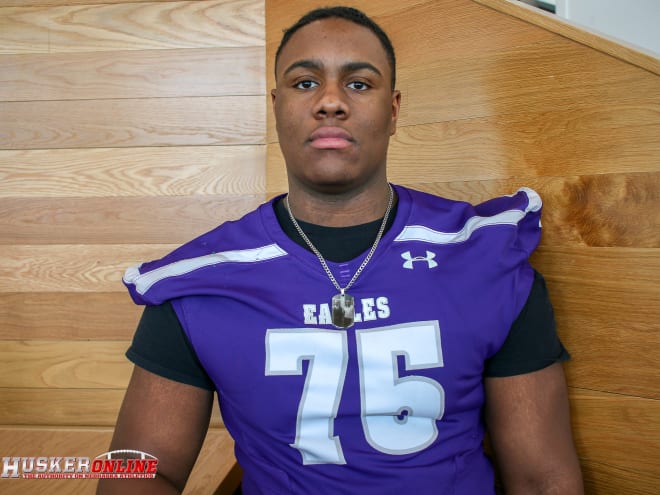 While numerous schools in Omaha opted against playing a football season in 2020-21, Deshawn Woods calendar suddenly freed up. So he joined the staff of the Junior Eagles youth football team in the area, coaching 7th graders alongside one of his mentors -- former Nebraska wingback Abdul Muhammad.
His biggest takeaway: "I learned how coaches see us … We complain a lot."
Maturity came with the headset on, Woods noted, a perspective shift that can only help him going forward. The gig was great, too, because it allowed him to still practice, still be around the game despite his senior season being nixed.
"As I'm coaching the kids, I'm also working with the kids. I'm doing what I'm supposed to do while they're doing it. I'm practicing, so they're going to practice how I practice," Woods said. "My coach also works at the Boys and Girls Club, and he had us working, working, working. I had like two or three camps, but other than that, we were just on the field working."
It was Fundamentals 101 with coach Woods, and the kids had a stud to show them the ropes.
Woods is a four-star offensive lineman out of Central High (Neb.), ranked as the best player in the Cornhusker State, the 22nd-best offensive tackle in the nation, and a top-160 prospect in America. The 6-foot-5, 295-pound high school junior currently has 15 offers, 13 of which are from Power-5 schools.
"What makes me so effective is I intimidate people with how I look, talk and act. I'm a leader," Woods said. "Another thing, I'm very aggressive."
Yet for all Woods confidence in his game, he believes the high rankings attached to his name are premature.
"I still don't think I am what they say I am. I just don't believe what I've shown is what I can get to before I can get to before college," Woods said. "I'm glad (my junior) season got thrown off because I was able to focus on some other things for my game … I get off the ball quickly already but just ending it with more toughness and finishing things. My footwork, my base technique for pass blocking, stuff like that."
Woods joked that his offers started to roll in at about the same time as Nebraska's three-highest-rated players behind him in Devon Jackson, Micah Riley-Ducker, and Kaden Helms. Woods said that when a school offers one of them, they usually offer the other three soon after.
And, right now, all four are undecided, and all have ASU offers.
"Me and Devon, that's like my brother -- I've known him since I was like 8," Woods said. "I wouldn't necessarily say 'team up,' but that's my brother, so if we go to the same college, that would be great."
Woods's first contact with ASU came back on June 3, when he spoke on the phone with ASU tight ends coach Adam Breneman, a call that ended with an offer.
"They're definitely young and energetic guys. But they'll talk to me like I'm their son," Woods said of ASU's coaches. "It's down to Earth. No BS. For me, it's like if somebody's armpit stinks, I'll be like, 'Hey bro, your armpit stinks.' I want truthful, trustworthy people, and that's what they are."
That trust has vaulted the Sun Devils near the top of his candidates. The Nebraska native said the Arizona State is in his top-3 while also noting that the Sun Devils, Missouri, and Tennessee are the three schools recruiting him the hardest. Woods said he would visit all three of those schools over the summer and noted he plans on committing in July so he can play his senior year without the stress of recruitment.
The visits, Woods said, are going to tell him a lot. He's a prospect all about the feel of a school -- and ASU has checked all the boxes so far.
"I'd definitely say culture and how (the school) feels. Me feeling something is something pulling you towards a school," Woods said. "(What ASU does differently) is their culture. It's how they show their dominance. This is the plan. This is what we're going to do. And this is how we're going to do it.
"ASU, they talked about who they already have committed, who is going to commit, and we (ASU commits and prospects) know each other. Some players are on offense and on defense, but we already know each other."
Join your fellow Sun Devil fans on our premium message board, the Devils' Huddle, to discuss this article and other ASU football, basketball, and recruiting topics. Not a member yet? Sign up today here and get all the latest Sun Devil news!