Four-star forward Khalid Thomas sees ASU 'as the best fit.'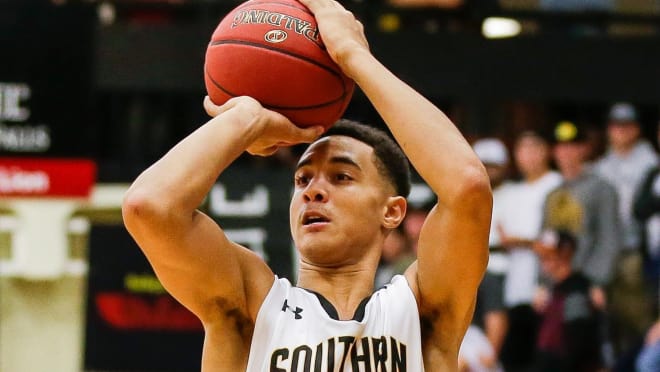 The sense of urgency is true for any college athlete, let alone junior college transfers with just two years to play. Khalid Thomas, who was choosing between ASU and Oregon, had to make sure that his decision would truly be the best fit for him. The Sun Devils ultimately presented that exact scenario to him as he announced his pledge in social media video Wednesday afternoon.
"I just like how Arizona State has everything set up for me," Thomas said, "they have the up and down style of play and that fits me better, and that presents the best opportunity for me. That's the style of play I shine in the most. The atmosphere I saw on my visit was great. This is a program on the rise and I'm trying to help them out.
"I have a chip on my shoulder because I feel a lot of people sleep on JUCO guys. So, I have something to prove and I'm ready to come in and do that. I'm very excited to come down there and start working."
Thomas unofficially visited his home state of Oregon last Saturday and followed that with an official visit to the Sun Devils the next day. He said that he arrived at his decision yesterday morning and he shot his announcement video last night.
"It was a little hard keeping it a secret," Thomas said laughing.
Thomas is the proverbial stretch forward who is a skilled sharpshooter. As a freshman for the College of Southern Idaho, he averaged 14.7 points, 6.5 rebounds, shooting 54.8 percent from the field and 41.4 percent from three-point range.
This past season the forward missed nearly half of his sophomore campaign due to injury, which caused his numbers to drop somewhat to an average of 8.6 points and 4.5 rebounds while shooting 38.1 percent from the field and 35 percent on three-pointers.
"Coach Burno laid it all out for me," Thomas commented in a previous interview, "and showed me how they would use me if I came there, and how I fit in. Hearing that gave me a lot to think about. He really likes my shooting especially in transition, and my ability to spread out the floor makes it harder for a defense to locate.
"I hung out with Remy Martin on my visit and he told that Arizona State was a great place to be and it has a great atmosphere. He likes the team's style of play and agreed that the way I play would fit in perfectly. It was a good time hanging with him."
Thomas committed to Texas Tech on October 1st of last year and signed with the Red Raiders a month later. At the time he had offers from the likes of LSU, Oklahoma, Virginia Tech Arizona, Baylor, Florida State, Oregon among others. He received his release from Texas Tech on May 17th and previously said that Arizona State was one of the very first schools to call him the day he reopened his recruitment.
With departures of frontcourt players Zylan Cheatham and De'Quon Lake, who both graduated, as well as Vitaly Shibel and Uros Plavsic who transferred, the Sun Devils have a pressing need to add players at this role to their 2019 class.
In a previous interview, Thomas was very pragmatic stating what he was looking for when he decides which program he will settle on.
"I don't need anything to be handed to me," Thomas commented, "but I need to make sure that the minutes are there for me to shine. I only have two years left to play and I want to make sure that the school I go to can get me NBA ready, and that's where I want to go. I need to make sure that that the school can help me get there."
Thomas is the sixth addition to ASU's 2019 class and represents the second four-star junior college forward newcomer in this group along with Arizona State guard signee Alonzo Verge. The Sun Devils have already signed four-star prospect and former Phoenix Shadow Mountain standout, Jaelen House, along with local Phoenix Mountain Pointe forward Jalen Graham, Los Angeles guard Caleb Christopher, and Arizona Western College forward Andre Allen.
Thomas plans to sign his Letter of Intent with the school this week.