Film Study: Breaking down Stanford's offense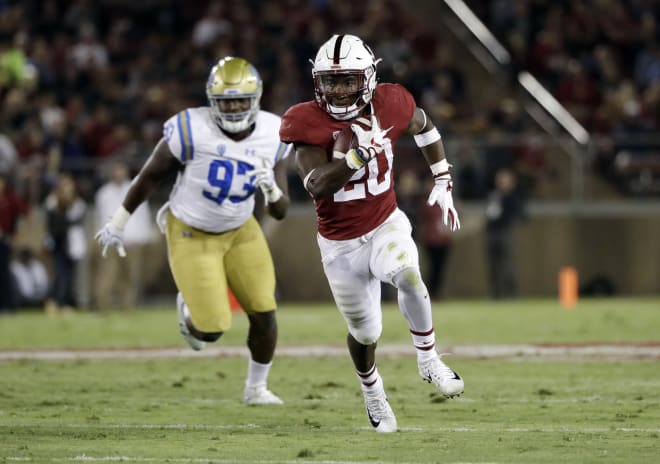 A few big plays doomed Arizona State in its first test against a pro-style offense when it played San Diego State. Now, the defense has a chance at redemption when it faces Stanford on the road this Saturday.
The Cardinal (2-2, 1-1 Pac-12) enters the game off a dominant 58-34 win over UCLA. Stanford and ASU (2-2, 1-0) have a common opponent: San Diego State.
A week after the Aztecs defeated ASU, they defeated Stanford, 20-17. Stanford's offense struggled in that contest and San Diego State used a late-game drive to score the go-ahead touchdown.
"We're definitely going to look at the San Diego State game, look at things that we did good, look at things that we did wrong and see how we can improve on it and see how we can transfer it to the Stanford game," ASU senior defensive lineman Tashon Smallwood said.
In this film study, we'll break down Stanford's offense and what makes the Cardinal so consistent each year.
System: Pro-Style
Head coach: David Shaw
Offensive coordinator: Mike Bloomgren
First, and perhaps most importantly, you should know this: Stanford loves to run the ball. Let's look at basic numbers first.
Stanford has thrown the ball 110 times this year. It has run it 129. That doesn't seem like too big of a difference, right? Well, the Cardinal are averaging 8 yards per carry this season, as opposed to 6.99 yards for every pass attempt. They're much more dominant on the ground, which is the area ASU will need to focus on most.
Starting running back Bryce Love has a nation-leading 787 yards on 73 carries this year, including five touchdowns. Cameron Scarlett, his backup, has carried 25 times for 164 yards and six touchdowns.
Stanford quarterback Keller Chryst has thrown for 509 yards but has just four touchdowns compared to two interceptions. Chryst was hurt against UCLA and his status for the game against ASU is unknown. His backup, K.J. Costello has thrown for 203 yards, two touchdowns, and no picks.
ASU coach Todd Graham said Stanford had perhaps the best group of tight ends the Sun Devils will face this season. Tight ends Kaden Smith and Dalton Schultz are the Cardinal's two primary tight ends. Smith has caught seven balls for 100 yards and a touchdown. Schultz has eight receptions for 79 yards and two scores.
Stanford's leading receiver is Trenton Irwin, who has 13 receptions for 146 yards and a touchdown. For context, the Sun Devils sport three receivers with more receptions than Irwin.
ASU senior linebacker D.J. Calhoun was a freshman when the Sun Devils defeated Stanford 26-10 in 2014, the last time the teams met. He said Stanford's scheme isn't any different.
But…
"They're smaller," he said. "My freshman year, they were huge."
Again, We can't stress enough how reliant Stanford is on running the ball. Let's dive into their scheme and see how the Cardinal are so effective.
We'll start with the strong-I formation, one of Stanford's favorites. The Cardinal love to run out of the singleback, the strong and weak-I formations and jumbo sets. In this strong-I play, Chryst hands the ball to Love and he bursts up the gut.
If you watch Love cut at the line of scrimmage, you can see why he's so special. He uses great vision, but even after he cuts, he's still able to burst through the hole. The offensive line gets an initial push and Love does the rest. Watch how the center holds his block. It really only takes a crease for Love to get a nice gain.
"They've been blocking well for him," Smallwood said. "Don't take anything away from him, he's a good back. He's been seeing holes, hitting them and making plays."
When looking at Love, ASU defensive coordinator Phil Bennett noticed that he's a north/south runner. Oregon's Royce Freeman is too, but there's a difference. Freeman is a much bigger and more powerful back than Love.
Love, however, can burn a defense at any time.
"He's a guy that if you give him a crease, he'll take it home," Bennett said.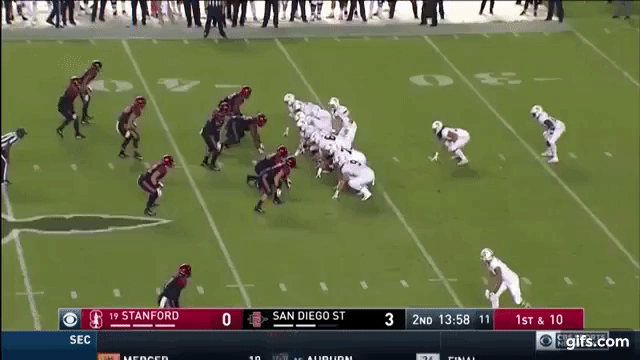 The above video is an example of the Power-I that Stanford runs. I show this because it displays how ASU can stop the Cardinal. Look at the way the Aztecs immediately stacked the line of scrimmage. They didn't let Stanford's offensive line get a push.
Once they stood up the offensive line, the defensive linemen and linebackers just contained Love. He was shuffling near the line of scrimmage as he tried to find a lane, but he couldn't do so.
"I think great running backs have great vision," Bennett said. "He presses the hole. He's like a smaller version of (Rashaad Penny). He presses the hole and he slides. He keeps balanced and he's probably the fastest back we've played."
But if there is no hole, Love can't use that great vision. That's where the Sun Devils need to excel.
ASU sometimes does a poor job with its pursuit, but it can't do so in this game. It won't need to worry about the athletes it did against Texas Tech and Oregon, so that's a plus. However, Love can also burn teams around the corners if they take bad angles. The front seven will obviously be key in ASU stopping Stanford's offense.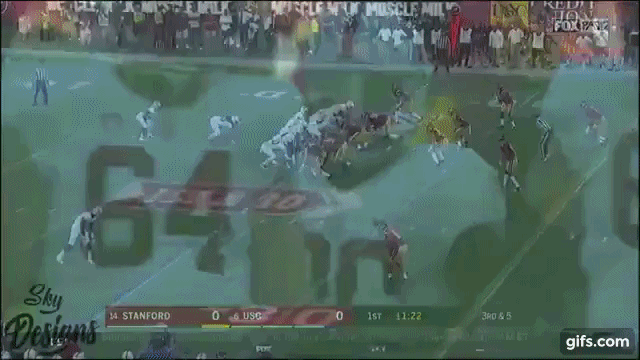 Speaking of hitting the hole, here is Love at his best. USC features an athletic and fast defense, but no one could catch Love. This play, which is run out of the I formation, is a simple toss back to Love. It's not a toss left, but is more of a pitch straight back.
This is effective because Stanford is playing to Love's strengths. The Cardinal are giving him a chance to use that vision. Instead of trying to shuffle trying to find a hole at the line of scrimmage, this gives Love the opportunity to do two things. He can survey where he wants to go, and can then shoot the hole quickly.
Look at how big the hole is, too. Calhoun mentioned that Stanford seems to be a smaller team this season, but its offensive line should still be respected. Additionally, the fullback immediately seals a hole for Love. ASU will need to win the physicality battle up front if it wants to have a chance at beating Stanford.
"He's fast," Smallwood said of Love. "He can start and stop on a dime."
Love is difficult to stop. His speed and vision make it tough for defenses to stop him for no gain or a negative play. It might be unrealistic for ASU to completely shut him down, but the Sun Devils can certainly stop him.
"You try to contain him," Bennett said. "Keep that inside and make it bounce (to the outside)."
Let's take a look at Stanford in the red zone. Love had just broken off a long run to set them up with this prime scoring opportunity. Notice the quarterback is not Chryst, but Costello. There is no word on who Stanford will start at quarterback against ASU (Chryst was injured against UCLA).
In this play, Stanford looks as if it'll just run the ball down UCLA's throat for a score. Not so. Costello fakes the handoff, rolls out and throws to Schultz. I know the referees signal an incomplete pass in the video, but it was later overturned and called a touchdown.
Notice this, though: Schultz was wide open. It's difficult to get a tight end more wide open than that on a play like this. However, Costello almost misses him. It took a fantastic catch from Schultz to score the touchdown. I know it was just one throw, but ASU could have success if it stays home on the fakes, but still chases the Stanford quarterback. Getting him moving will be key for ASU's defense, which has pressured the quarterback well this season.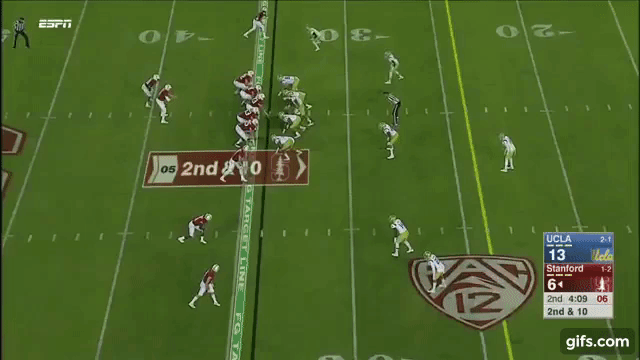 The above play is one that could easily be trouble for ASU. I could see The Sun Devils in the same exact situation as UCLA on Saturday.
Consider this hypothetical situation: Stanford is moving the ball down the field. ASU stops a first down run for no gain and is focusing on bending, but not breaking. Then Stanford whips this out.
This looks like it'll be a short pass to make third down more manageable, but nope. Watch how Love cuts back and bounces the run to the outside. He's so instinctive as a runner. I already mentioned his great vision and the way he hits holes, but his ability to cut back is something ASU needs to watch for.
However, this play looks as if it's sort of designed for him to cut back. It's not a traditional counter play, but watch the blocking scheme. The offensive line takes care of the right side of the field before Love cuts back.
"They're a physical line and they're tough," Bennett said. "You can tell they play with that mentality."
The receiver at the top of the screen also cuts in to seal his corner and allow Love to successfully get to the outside. From there, it's a footrace.
ASU will need to be extremely adept with its play recognition when situations like this hit. Stanford is a power running team, but Love allows it to also expand to plays like this. If they're not careful, the Sun Devils could get burned.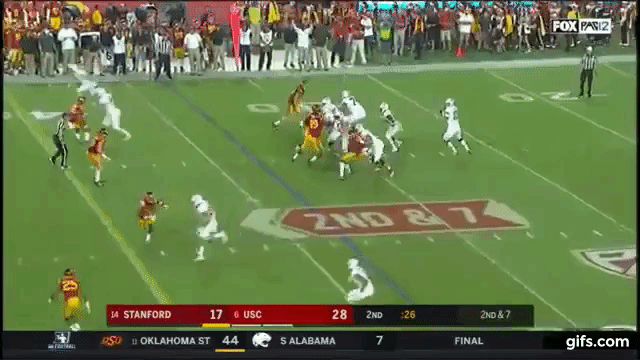 Stanford doesn't have a dynamic passing game, but the Cardinal will throw at times. Here is a simple short passing play where Chryst's receiver works his way back to the middle of the field.
USC is playing a zone defense, which is why this works. This play is near the end of the half and the Trojans were trying not to give up anything deep. However, this is what many of Stanford's passing plays will look like.
The quarterback, whoever it may be, will take what the defense gives him. I don't anticipate there'll be many deep routes or anything too flashy. The route combinations will be set up so receivers can beat man coverage and expose defenses looking to stop the run first. Additionally, like this route, many plays will feature receivers who are just looking to find the soft spot in the zone coverage.
WHO STARTS AT QUARTERBACK?
Andrew Luck was the last prominent Stanford quarterback. The Cardinal's offense doesn't hinge on the signal caller being able to throw the ball all over the field. As previously mentioned, Chryst was injured against UCLA last Saturday. Bennett on Wednesday said Chryst took a "good lick."
"I would think that under the concussion protocol, he should be able to play," Bennett said.
But if he doesn't Costello and Ryan Burns are Stanford's backup quarterbacks.
"Costello played well, and they have a package for (Burns) also," Bennett said. "They've sort of played all of them all year, but I think their starter was the guy that knew the checks. A lot of things they do are run checks. I'm sure they're more comfortable with (Chryst) in there."
ASU's offense has seemingly found its stride after solid performances the past two weeks. The unit will be fighting its own battle against a tough Stanford defense.
If the Sun Devil defense plays like it did last week, ASU could come away with another upset win. It'll need to match Stanford's physicality, though.
Asked about what he saw in Stanford's loss to San Diego State, Calhoun offered this:
"(San Diego State) just hit them in the mouth," he said.
Perhaps ASU can do the same.