ASU's 2017 Recruiting Class Offensive Overview
With all of ASU's known commits officially signed, here is an overview of the players the Sun Devils have landed on offense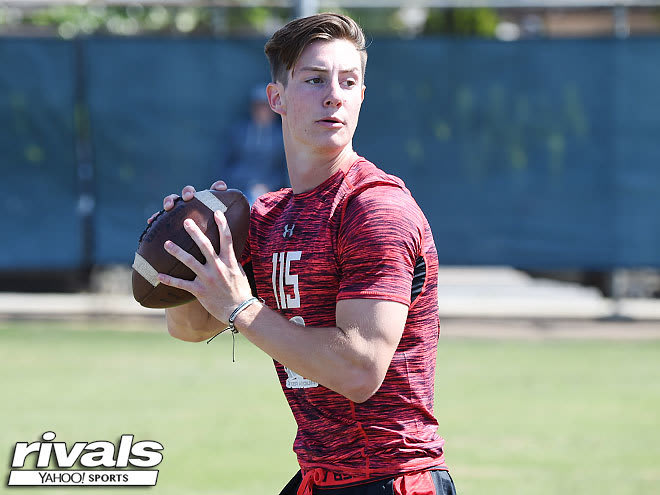 Quarterback
Signees: 2 (1 Transfer, 1 High School)
De-Commits: 0
Blake Barnett
Commit Date: 12/5/16
Other Schools Considered: California, Oregon, Washington State
Previous School Attended: Alabama (2015-16)
2016 Stats (Alabama): 3 games, 11-of-19 (57.9%), 219 yards, 2 TDs, 0 INTs; 7 carries, -17 yards, 0 TDs
Recruitment Summary: The story on Barnett is now well known as he signed with Alabama in 2015 as one of the nation's premier quarterback recruits, but the California native opted to leave the Crimson Tide program four games into his redshirt freshman season. He stepped back to the junior college level but did not play football and in December chose ASU over a list of other Pac-12 Conference options. An early enrollee, it was initially expected that Barnett would have to sit out the first four games of the 2017 season but less than 24 hours before National Signing Day he received word he would be eligible to play in game one.
Outlook for 2017: The excitement for Barnett was doused with gasoline the day before National Signing Day as it was reported that he had succeeded in his NCAA appeal to waive the requirement to sit out the first four games of 2017, which was initially required as he played four games at Alabama in 2016
Barnett figures to be one of only three quarterbacks able to compete at full strength this spring – joining Manny Wilkins and Dillon Sterling-Cole – as Brady White is still recovering from his foot injury suffered against UCLA, Bryce Perkins assumes to be limited despite recently being medically cleared for action, while Ryan Kelley does not join the program until the fall.
Though Wilkins boasts the greatest total of game experience of the entire group, he cannot be labeled an iron-clad guarantee to start in 2017. Barnett, also, is not a guaranteed starter, but he would not have come to ASU – and ASU, in turn, would not have pursued him – if the Sun Devils were not in the market for a new starting quarterback.
Barnett will have opportunities to battle for the starting position – and a battle it undoubtedly will be – but he has a more-than-fair chance of earning the QB1 nod for 2017.
Long-Term Outlook: If Barnett is able to become the starter this season, he will continue to be challenged to retain the role by the aforementioned stable of quarterbacks. However, the possibility also exists for him to be up to a three-year starter and potentially materialize what was expected of him as an elite level high school recruit.
If Barnett does not earn the starting nod in 2017, the natural instinct is to monitor whether he chooses to relocate yet again.
Did You Know?The No. 41 overall recruit in the nation for the 2015 class, Barnett is the highest rated quarterback to sign with ASU since Rivals' rankings began in 2002. Only Brady White (No. 65, 2015) and Michael Eubank (No. 193, 2011) join Barnett as Rivals250 rated quarterbacks to sign with Arizona State.
Ryan Kelley
Commit Date: 5/6/16
Official Visits: ASU (1/13/17)
Previous Commitment: Oregon (11/12/15 to 5/3/16)
Other FBS Offers: Michigan State, Nebraska, North Carolina, Oregon, Oregon State, San Diego State, Texas A&M, UCLA, Washington, Washington State
2016 Stats: 10 games, 194-of-301 passes (64.5%), 2,642 yards, 21 TDs, 5 INTs; 91 carries, 472 yards, 5 TDs
Recruitment Summary: One of the most talented quarterback prospects from Arizona in the "Internet Era", Kelley verbally committed to Oregon approximately a month after receiving an offer from the Ducks in September of 2015. Largely influenced by the departure of assistant coach Scott Frost to become head coach at UCF, Kelley de-committed from Oregon and switched his pledge to ASU within a three-day span in early May of 2016.
Outlook for 2017: The 2016 season surely taught us never to say "never" when it comes to a true freshman unexpectedly seeing snaps at quarterback for the Sun Devils. However, it would likely take an exodus of more than one scholarship quarterbacks and/or another rash of injuries for Kelley to factor into the 2017 plans as there are five others that as of right now figure to be ahead of him.
Long-Term Outlook: ASU is in completely uncharted territory in having such a crop of highly recruited quarterbacks all on the same roster. To Kelley's benefit, however, is his youth, as one would have to imagine that not all six quarterbacks currently on the roster still will be to start the 2017 season. Long-term, Kelley's most likely combatant for eventual starting reps figures to be Dillon Sterling-Cole, but that may not be until 2020 (Kelley's predicted redshirt junior year) or even 2021, depending on the success and time spent in the program by Manny Wilkins, Brady White, Bryce Perkins and Blake Barnett.
Did You Know? Kelley is the first four-star quarterback prospect from the state of Arizona to sign with ASU since Rivals' rankings began in 2002.
Running Back
Signees: 2 (2 High School)
De-Commits: 0
Eno Benjamin
Commit Date: 1/7/17
Previous Commitment: Iowa (4/18/16 to 10/23/16)
Official Visits: Missouri (9/16/16), ASU (10/7/16), Utah (11/18/16)
Other FBS Offers: Arizona, Baylor, Boise State, Boston College, California, Colorado, Duke, Houston, Iowa, Iowa State, Kansas, Miami (Fla.), Michigan, Nevada, North Texas, Northwestern, Oklahoma State, San Diego State, SMU, Texas, Texas Tech, Tulane, Vanderbilt, West Virginia
2016 Stats: 13 games, 359 carries, 2,587 yards (7.2 avg.), 28 TDs; 562 passing yards, 7 TDs, 3 INTs; 5 catches, 72 yards, 1 TD
Recruitment Summary: Benjamin ended his six-month commitment to Iowa after officially visiting both Missouri and ASU, and after a November visit to Utah his recruitment ramped up considerably when new head coach Tom Herman provided Benjamin an offer from Texas in early December.
Not long after, however, Texas took a commitment from four-star prospect Toneil Carter as well as three-star Daniel Young, and Benjamin ultimately gave a public commitment to Arizona State at the U.S. Army All-American Bowl in early January and enrolled at ASU days later.
Otherwise, during his recruitment, Benjamin took multiple unofficial visits to Texas A&M and also unofficially visited the likes of Baylor, LSU, Michigan and Ohio State.
One of the most statistically impressive running backs in the nation, according to MaxPreps, Benjamin ranked 36th among all high school running backs in total rushing yards in 2016.
Outlook for 2017: Benjamin certainly has the talent to break into the rotation as a true freshman and his status as an early enrollee certain helps that matter, but what remains to be seen is the amount of reps remaining after seniors Kalen Ballage and Demario Richard, as well as sophomore Nick Ralston and redshirt freshman Tre Turner. Most years for ASU, Benjamin would be a virtual lock to earn substantial immediate action but the loaded veteran backfield will provide a collective challenge for the first-year player.
Long-Term Outlook: When both Ballage and Richard graduate, it is very likely Benjamin could be the odds-on favorite to start in 2018 and beyond, whether as a sophomore or as a redshirt freshman.
Did You Know? Benjamin is the second highest rated running back signed by ASU since Rivals' rankings began in 2002, trailing only Ryan Bass (No. 2, 2008).
Trelon Smith
Commit Date: 6/20/16
Official Visits: ASU (1/13/17)
Other FBS Offers: Bowling Green, Cincinnati, Colorado State, Duke, Illinois, Louisiana-Lafayette, New Mexico, SMU, UTSA, Tulsa
2016 Stats: 13 games, 295 carries, 2,191 yards (7.4 avg.), 29 TDs; 22 catches, 327 yards, 4 TDs
Recruitment Summary: Smith's recruitment was relatively uneventful – in a very good way for Sun Devil fans – as he reportedly did not earn any scholarship offers or take any unofficial or official visits to schools other than Arizona State after his June commitment to the Sun Devils.
Outlook for 2017: Similar to Benjamin, Smith enters a loaded backfield for 2017 but unlike his classmate, he will not arrive until the fall. Smith brings a versatile presence of a rusher and a pass-catcher, but it may be a general surprise for him to carve out much of a role as a true freshman.
Long-Term Outlook: When Ballage and Richard graduate, opportunities will exist in the backfield. Smith brings a similar style as 2016 signee Tre Turner and Turner may be his most distinct competitor for playing time.
Did You Know? Smith's high school head coach compares him to former Oregon State star Jacquizz Rodgers. Smith rushed for nearly 4,000 yards between his junior and senior seasons.
Wide Receiver
Signees: 1 (1 High School)
De-Commits: 0
Curtis Hodges
Commit Date: 7/29/16
Other FBS Offers: Iowa State
2016 Stats: 11 games, 50 catches, 733 yards, 7 TDs
Recruitment Summary: A project with incredible height for his position, Hodges pledged to ASU in the summer of 2016 over his only other reported scholarship offer, Iowa State.
He also reportedly had offers from Grand Canyon and Texas-Pan American for basketball.
Outlook for 2017: Hodges brings incredibly physical promise as he likely is one of the tallest wide receivers in ASU history, but he will benefit from a year in ASU's strength and conditioning program as a redshirt to help maximize his physical potential.
Long-Term Outlook: Time will tell if Hodges will be a candidate to earn substantial game reps at wide receiver of if he will be a one-trick pony (or in his case, I suppose, a one-trick Toro) as a red zone jump ball target. Even if he is limited to that role, if he can thrive in any way he will add value to the Sun Devil offense.
Did You Know? Hodges is the first player from historic state power Mesa Mountain View High School to sign an NLI with ASU since Max Hall in
Tight End
Signees: 1 (1 High School)
De-Commits 1 (Jared Poplawski)
Mark Walton
Commit Date: 1/30/17
Official Visits: ASU, Florida Atlantic, Vanderbilt
Other FBS Offers: Vanderbilt
2016 Stats: 10 games, 39 catches, 690 yards 10 TDs; 42 tackles, 4.0 sacks
Recruitment Summary: As Devils Digest's Ralph Amsden outlined in Walton's commitment story, Walton experienced an incredible rollercoaster over the final two weeks of January he went from without an FBS offer to three official visits in an eight-day span. Initially, it was believed ASU was in pursuit of Walton as a greyshirt option but the addition of assistant coach Billy Napier and the de-commitment of tight end Jared Poplawski opened the door for Walton to be a part of the Sun Devils' 2017 class.
Outlook for 2017: With no drastic need at tight end or defensive end, it seems to be a foregone conclusion that Walton will redshirt in 2017.
Long-Term Outlook: Assuming he plays tight end, after 2017 predicted starter Jay Jay Wilson will be a senior, Grant Martinez will have completed his eligibility and reserve Tommy Hudson will be a junior, leaving Walton and 2016 signee Jared Bubak as the lone youngsters at the position. It also remains to be seen what role the tight end position will have under ASU's new offensive coordinator direction.
Did You Know? Walton is reportedly the first Cibola graduate in the school's 28-year history to sign with an FBS program to play football.
Offensive Line
Signees: 1 (1 High School)
De-Commits: 0
Corey Stephens
Commit Date: 6/17/16
Other FBS Offers: Air Force, Army, Louisville, Memphis
Recruitment Summary: A lifelong ASU fan, Stephens was one of three Saguaro players to verbally commit to ASU at the same time in June and he never even remotely waivered from that pledge.
Outlook for 2017: ASU is able to go two, almost three-deep at each interior line position with returning scholarship players so it would be a major surprise for Stephens not to redshirt.
Long-Term Outlook: Of the early predicted starting lineup for 2017, three of the five starters are juniors or seniors this coming fall. In the absolute best case scenario, he likely could battle for a starting role as a redshirt sophomore in 2018 but may need to sit longer for a viable first-string role.
Did You Know? Stephens is the first offensive player from Saguaro High School to sign with ASU since D.J. Foster in 2012.