ASU's 2017 Recruiting Class Defensive Overview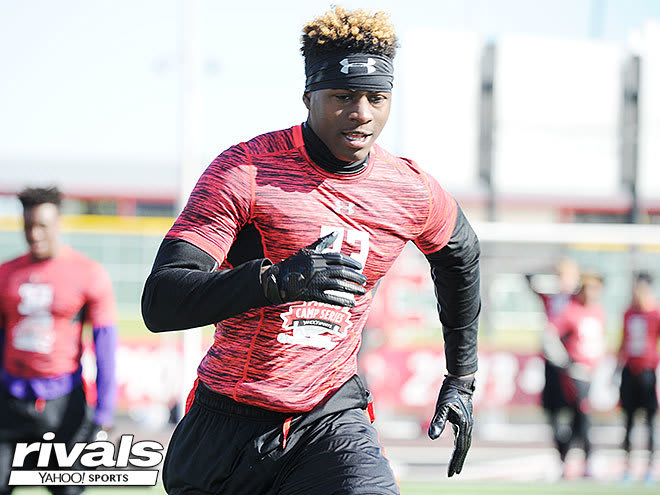 With all of ASU's known commits officially signed, here is an overview of the players the Sun Devils have landed on defense
Defensive Line
Signees: 2 (2 High School)
De-Commits: 0
Commit Date: 12/22/16
Recruitment Summary: A 2016 graduate of Mesa's Desert Ridge High School, Davidson signed with but did not attend Central Florida last year. When he reconsidered his options, ASU's pursuit allowed him to remain in his home state.
Outlook for 2017: The combination of Davidson's size (assuming his conditioning is in order) and his status as an early enrollee give him a very good chance of earning playing time. In fact, Davidson should be the backup nose tackle behind George Lea this spring and should be counted on to play in the fall.
Long-Term Outlook: ASU has had bad luck with big-bodied defenders lately such as DeOnte Reynolds and Mike Pennel, but hopefully the third time is the charm with a behemoth lineman such as Davidson for Todd Graham and staff. Though he wasn't recruited by a bevy of elite programs, his size paired with long-term depth concerns for the Sun Devil defensive line should give Davidson numerous opportunities to excel at Arizona State.
Did You Know? Davidson is just the ninth defensive lineman to weight 300 or more pounds (according to Rivals) that ASU has signed since 2002, joining Alifaleti Likio (6-3, 312 in 2003), Martin Tevaseu (6-2, 330 in 2006), Jonathan English (6-0, 334 in 2007), Spencer Gasu (6-2, 315 in 2008), Calvin Tonga (6-4, 320 in 2010), Mike Pennel (6-5, 340 in 2012), Dalvon Stuckey (6-2, 305 in 2014) and DeOnte Reynolds (6-3, 325 in 2015). He is also one of only four of that group to stand 6-foot-4 or taller. Shannon Forman is listed by ASU as a 300-pounder, but 290 pounds by Rivals.
2
Commit Date: 2/1/17
Official Visits: Tulane (1/13/17), Arkansas State (1/17/17), ASU (1/20/17), Missouri (1/27/17)
Other FBS Offers: Colorado, Troy
Recruitment Summary: A proverbial late bloomer in terms of how heavily he was pursued by ASU, Missouri was the primary opponent for Forman's services. ASU assistant coach John Simon played a substantial role in Forman's connection to ASU.
Outlook for 2017: With limited proven depth along the defensive line, Forman could have a fighting chance for playing time in the fall, but it also would not be a surprise whatsoever for him to redshirt.
Long-Term Outlook: Forman comes to ASU as a bit of a project with above average bulk for the defensive line. The Sun Devils need depth for the future after not prioritizing the defensive line in the 2016 class, so with the right determination Forman could have the opportunity to be a multi-year contributor, even if as a reserve.
Did You Know? Forman is the eighth player from Louisiana to sign with ASU under Todd Graham joining Ronald Lewis and Corey Smith in 2013, Emanuel Dayries in 2014, Jalen Bates, Terrell Chatman and George Lea in 2015 and Tre Turner in 2016.
Linebacker
Commit Date: 12/16/16
Other FBS Offers: Alabama, Arizona, Florida State, Michigan, Michigan State, Nebraska, Oregon, Pittsburgh, Tennessee, UCLA, USC, Washington
2016 Stats: 7 games, 5 catches, 172 yards, 2 TDs; 9 carries, 57 yards, 1 TD; 14 tackles, 4.0 sacks, 1 FF
Recruitment Summary: A spectacularly versatile athlete recruited by teams as a wide receiver, tight end and rush linebacker, the predicted competition for the Arizona product was Michigan State, where Johnson's father played. Ultimately, the hometown team won and Johnson became a Sun Devil.
Outlook for 2017: Though Johnson's athleticism is off the charts, he may need time to acclimate to playing defense only as ASU can rely on Dougladson Subtyl and/or Koron Crump at Devilbacker. Johnson could, however, use his all-world physical gifts to see the field immediately, but it also should not come as a surprise if he redshirts to grow into his collegiate role.
Long-Term Outlook: If Subtyl proves to be the starting Devilbacker the next two seasons, Johnson could be groomed to replace him in 2019 and beyond. Johnson's ceiling only will be determined by how dedicated he remains throughout his time as a Sun Devil.
Did You Know? One of the most athletically gifted players to sign with ASU in recent years, Johnson has drawn physical comparisons to Terrell Suggs and Todd Graham calls Johnson the 'most dynamic' player he has seen in his time at Arizona State.
Commit Date: 7/2/13
Official Visits: ASU (12/9/16)
Other FBS Offers: California, Illinois, Indiana, Iowa State, Kansas, Texas State
2016 Stats: 6 games, 30 tackles
Recruitment Summary: If you aren't familiar with Mondy's recruitment, no that is not a typo on his commitment date. At age 14, Mondy gave his pledge to Todd Graham – two months before Graham's second season at Arizona State. Though the college football world scoffed in disapproval of an eighth grader making a college commitment, to Mondy's complete credit he remained true to that commitment for three-and-a-half years. Mondy was expected to be an early enrollee to ASU and though his name wasn't publicly included in Arizona State's Signing Day announcements, he is fully expected to be a part of the class.
Outlook for 2017: Barring injury, there appears to be no distinct need for Mondy to see immediate playing time in 2017.
Long-Term Outlook: The main question to answer is which linebacker position is most suitable for Mondy as he unlikely has the physical stature to play Devilbacker. Presumably an inside linebacker, Mondy likely will be among a group of options to eventually replace D.J. Calhoun and Christian Sam in the next two years.
Did You Know? Though it is a completely unofficial superlative with admittedly no true research behind it, Mondy likely held the longest verbal commitment of any FBS signee for the 2017 class.
Note: Mondy wasn't introduced yesterday as a signee due to a compliance issue, but will officially be part of this class once that issue will be resolved.
Commit Date: 6/16/16
Other FBS Offers: Air Force, Army, Boise State, California, Colorado State, Hawaii, Nevada, New Mexico, San Diego State, San Jose State, UNLV, Utah, Washington State
2016 Stats: 13 games, 7 catches, 72 yards, 1 TD; 53 tackles, 9.0 sacks, 2 FF
Recruitment Summary: Soelle's recruiting process was generally uneventful (in a good way for Sun Devil fans) as, despite a list including some impressive offers, once he verbally pledged to ASU he never wavered or considered other options.
Outlook for 2017: Though Soelle is physically gifted with impressive upside, he will need a redshirt season to add to his 200-pound frame.
Long-Term Outlook: If able to add bulk and continue to grow into exclusively a defensive player, Soelle has a great deal of potential to perform at ASU. If he ends up at Devilbacker, his primary competition likely will prove to be a classmate and fellow Arizona native Tyler Johnson.
Did You Know? Soelle was one of three Saguaro players to commit to ASU on the same day, though one would ultimately sign with a different program.
Commit Date: 10/22/15
Official Visits (2016): ASU (10/10/15)
Other FBS Offers (2016): Auburn, Baylor, Boise State, California, Florida State, Illinois, Kansas, Kansas State, Louisville, Missouri, Nebraska, New Mexico, New Mexico State, Oregon State, Texas A&M, UAB, Utah State, Washington, Washington State
2015 Stats: 11 games, 52 tackles, 22.5 tackles-for-loss, 18.0 sacks
Recruitment Summary: One of the most heavily pursued JUCO defenders for the 2016 class, Subtyl signed with ASU but did not initially meet academic qualifications to play this past fall. Subtyl remained dedicated to being a Sun Devil, gained academic clearance and will begin his Arizona State career this spring.
Outlook for 2017: The prototype at Devilbacker, the general thought is that Subtyl should push for starting reps at that position and perhaps adjust ultra-athletic Koron Crump to Spur linebacker with Christian Sam and D.J. Calhoun inside.
Long-Term Outlook: With just two years to play at Arizona State, time is limited – but Subtyl's upside is not, as he is expected to be one of the most significant contributors of the 2017 class.
Did You Know? Subtyl is a native Haitian and began playing football not long before reaching the college level.
Defensive Back
Signees: 5 (5 High School)
De-Commits: 1 (Jermani Brown)
Commit Date: 1/30/17
Official Visits: Kansas State (11/4/16), Oklahoma State (11/11/16), ASU (12/9/16), UCLA (1/13/17), Notre Dame (1/20/17)
Other FBS Offers: Air Force, Arkansas State, Baylor, Eastern Michigan, Hawaii, Houston, Illinois, Iowa State, Louisiana-Monroe, Memphis, Minnesota, Mississippi State, Navy, New Mexico, North Texas, Notre Dame, Ohio, Oregon, Rutgers, TCU, Texas State, Tulsa, UTSA, Wyoming
Recruitment Summary: Fields had quite the eventful recruitment between a host of reputable scholarship offers and a series of official visits. Three days after his official visit to Tempe in December, Fields announced a final four of the ASU, Kansas State, Notre Dame, and Oregon and also eventually took an official visit to UCLA. Two days before Signing Day, however, Fields made the call for Arizona State.
Outlook for 2017: Though ASU returns both starting safeties from 2016 in Marcus Ball and Armand Perry, immediate depth is needed for 2017 as well as preparation to replace Ball and Perry. Fields has a highly reasonable chance to work his way into the two-deep and be a potential starter in 2018 or '19.
Long-Term Outlook: Marcus Ball will be a senior in 2017 and Armand Perry a senior in 2018 and Fields comes to ASU as qualified as any returning safety on the roster to fill in as a starter when the incumbent first-stringers have left the program. Fields has the projected ability to play either bandit safety or Spur linebacker.
Did You Know? Fields is the first high school player to sign with ASU in the "Internet Era" from the state of Oklahoma. Maurice Chandler last year signed with ASU out of Northeastern Oklahoma A&M College.
Commit Date: 2/1/17
Other FBS Offers: Houston, Indiana, Iowa State, Michigan State, Minnesota, Missouri, North Texas, Southern Miss, UTSA
2016 Stats: 9 games, 62 tackles, 1 INT, 7 PD, 3 Blocked FGs
Recruitment Summary: Frederick obtained a few Power 5 offers and unofficially visited schools such as Texas A&M and Texas, but ultimately bypassed in-state and closer regional offers to attend Arizona State.
Outlook for 2017: Depth chart positions surely exist for the taking for the 2017 season, but it would come as a general surprise if Frederick is able to outperform the competition to the point of earning a two-deep role as a true freshman.
Long-Term Outlook: Beyond 2017, Frederick could be a starter/key reserve and likely will face his stiffest competition from 2016 signees Robbie Robinson and Chase Lucas and classmate Alex Perry.
Did You Know? Frederick reportedly squats 440 pounds – an impressive feat for a 175-pound teenager.
Commit Date: 1/25/17
Official Visits: USC (1/13/17), ASU (1/20/17), California (1/27/17)
Other FBS Offers: Arizona, Colorado, Illinois, Michigan State, Nebraska, Notre Dame, Oregon State, TCU, UCLA, Utah, Vanderbilt, Washington, Wisconsin
2016 Stats: 14 games, 10 catches, 215 yards, 4 TDs; 56 tackles, 4 INTs, 6 PD
Recruitment Summary: As Jarrell outlined in an autobiographical commitment story published by Ralph Amsden on Arizona Varsity, his original interest was to attend USC but ASU, aided by the addition of defensive coordinator Phil Bennett, was able to emerge to the forefront of Jarrell's interest. California was also a finalist for his services, but ultimately Jarrell chose the Sun Devils over the Trojans.
Outlook for 2017: ASU has questionable depth at both safety positions as well as Spur linebacker, so wherever Jarrell fits in there could be a chance for him to fill a backup role as a true freshman and perhaps compete on special teams.
Long-Term Outlook: Like Fields, Jarrell projects as either a bandit safety or perhaps Spur linebacker, and starting spots in those areas could be available in 2018. It is conceivable that Fields and Jarrell could be top candidates to start at the two positions.
Did You Know? Jarrell's addition to the 2017 class made him the 10th Saguaro High School product to sign an NLI with ASU in the "Internet Era" (2002-17). Also, with Jarrell 2017 joins 2009 as the only years in that span in which three Saguaro alumni signed with Arizona State as that year Corey Adams, Kody Koebensky and Max Smith all became Sun Devils.
Commit Date: 12/13/16
Other FBS Offers: Arizona, Boise state, Colorado, Memphis, Michigan, North Carolina, Oklahoma, Oklahoma State, UNLV, Utah, UTSA, Washington State
2016 Stats: 15 games, 24 tackles, 6 PD
Recruitment Summary: A unique two-time commit to ASU, Perry first pledged to the Sun Devils on Nov. 2, 2014 – in the late stages of his sophomore year of high school, while his brother Armand was a contributor on ASU's 10-win team. That commitment lasted over a year but Perry backed off on Feb. 4, 2016. From there, he would acquire a handful of marquee offers and reportedly pursued unofficial visits to TCU and Michigan, but he would circle back to the Sun Devils and commit once again in December of 2016.
Outlook for 2017: ASU's abysmal pass defense from 2015 and '16 needs help and depth and Perry likely will be counted on to assist. ASU returns Kareem Orr to the starting lineup and at this point, Maurice Chandler or Robbie Robinson likely will replace "Gump" Hayes in the starting lineup, while Chase Lucas presumably will complete the two-deep during the spring. However, one would imagine that top-level depth chart battles still will occur in the fall in which Perry can participate.
Long-Term Outlook: Chandler graduates after 2017 and Orr is midway through his college career, so Perry likely will compete with the likes of Robinson and Lucas (assuming the latter remains at cornerback through the duration of his career) for reps once the two upperclassmen move on from ASU.
Did You Know? Perry was a part of a Bishop Gorman program that won at least a share of the past three high school national titles.
Commit Date: 6/23/16
Previous Commitment: Oklahoma State (1/8/16 to 6/23/16)
Official Visits: ASU (12/9/16)
Other FBS Offers: Arkansas, East Carolina, Oklahoma State, SMU, Texas Tech, UCF, UTSA, Wake Forest, Washington State, West Virginia
Recruitment Summary: After racking up a small handful of FBS offers during and shortly after his junior season of 2015, Thomas gave a verbal commitment to Oklahoma State in January 2016. Several schools would go on to offer Thomas – including ASU in March – and on June 23, Thomas flipped his pledge from the Cowboys to the Sun Devils.
Outlook for 2017: Thomas could carve a role on special teams as a true freshman, but reps at safety could be difficult to obtain even though he is an early enrollee to ASU.
Long-Term Outlook: Marcus Ball is a senior in 2017 and Armand Perry will follow suit in 2018. From there, just about all bets are off when it comes to the future at safety. Thomas' main competition may come from classmates such as Evan Fields and K.J. Jarrell, as Thomas possibly could play either safety position at ASU.
Did You Know? Thomas is the nephew of former NFL star linebacker Zach Thomas.
Special Teams
Signees: 1 (1 High School)
De-Commits: 0
Commit Date: 1/16/17
Previous Commitment: Alabama (6/10/16 to 1/15/17)
Official Visits: ASU (12/2/16), Alabama (12/9/16)
Other FBS Offers: Arizona, Army, Iowa State, Navy, Oregon State, Tennessee
2016 Stats: 14 games, 17-of-20 FGs (long of 58), 66-of-67 PATs; 117 total points; 37 punts, 41.5 avg.; 88 TB on 93 KOs
Recruitment Summary: Ruiz gave his verbal pledge to defending National Champion Alabama in June prior to his senior season and even late in the calendar year of 2016 it appeared as though he would stick to that commitment. The hometown appeal and the success ASU had in developing Unanimous All-American and 2016 Lou Groza Award winner Zane Gonzalez ended up flipping Ruiz' decision less than a month before signing day.
Outlook for 2017: Between his prestigious background and the gaping hole left by departed Lou Groza Award winning kicker Zane Gonzalez, it would be an incredible shock and disappointment if Ruiz does not handle placekicking duties for ASU as a true freshman.
Long-Term Outlook: The stage is set for Ruiz to be a four-year kicker for ASU and expectations are high that he should be able to carry the All-America torch passed to him from Gonzalez.
Did You Know? Ruiz is just the second kicker in the "Internet Era" to sign an NLI with ASU on National Signing Day, joining Jesse Ainsworth in 2003. Gonzalez was a late addition to the 2013 class and kickers such as Alex Garoutte and Thomas Weber began as walk-ons.