ASU no longer recruiting Washington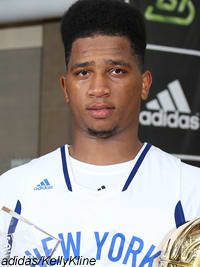 Arizona State has parted ways with recent 2015 basketball commit
Jordan Washington
following his reported arrest in Ottumwa, Iowa for fifth degree theft according to sources directly familiar with the development.
A 6-foot-8, 280 pound post player at Indian Hills Community College, Washington committed to ASU while on his official visit to the school at a dinner on Sept. 5, but will not sign with the Sun Devils now. ASU will look to fill the scholarship spot elsewhere.
Last year, Washington played for current ASU assistant Barret Peery at Indian Hills, which also featured star guard Roosevelt Scott.
Scott and Savon Goodman, who also attended Indian Hills but sat out last season, both signed with the Sun Devils last November and are current members of the program.
The Ottumwa Post reported it receiving the following statement from the Indian Hills program:
"The Indian Hills administration and coaching staff are aware of Jordan's arrest. He has been suspended from basketball activities until the matter is resolved. We are still in the process of gathering facts ourselves and we know the legal system will need to process his case. When that is finished, a decision will be made as to the discipline Jordan will receive."
Washington averaged 9.8 points and 5.7 rebounds in just 12.7 minutes per game for a team that averaged 108 points and lost in the NJCAA national title game. He said he picked ASU over interest from Cincinnati, Pitt, Seton Hall and UNLV.