ASU defeats Utah, wins first Pac-12 road game since 2015, and has new life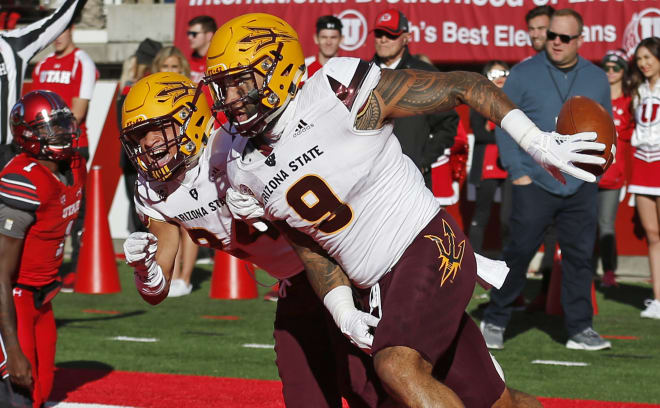 SALT LAKE CITY — Arizona State football once looked lifeless, a sub-.500 team that had just allowed Stanford running back Bryce Love to set a school record for rushing yards in a single game. Heading into their bye week, the Sun Devils needed answers, and they needed them quickly.
ASU didn't do anything particularly well through its first five games. The offense seemed to be reaching a breakthrough, but the defense remained inconsistent, leaving fans and pundits wondering whether a turnaround was even possible.
Last week, ASU upset then-No. 5 Washington, a monumental and historic win for the program. But once the post-game excitement settled, one question loomed: Was the performance a fluke or would the Sun Devils build off of it?
It seems like the latter, at least for now. ASU (4-3, 3-1 Pac-12) defeated Utah (4-3, 1-3), 30-10, on Saturday, the program's first Pac-12 road victory since winning at UCLA in 2015.
And perhaps most surprising is that the Sun Devil defense from the first five games is nowhere to be found. It seems like a new unit, which is impressive considering it has lost Koron Crump, perhaps its best player.
"If we know we just keep plugging, keep plugging, keep plugging, something is going to break," junior linebacker Christian Sam said of the defense's mindset. "The dam is broke. Now we just got to reset the standard."
ASU intercepted Utah's Tyler Huntley four times on Saturday after not tallying a pick since the season opener. One of those was a pick-six by junior Jay Jay Wilson, which gave the Sun Devils a 30-3 lead.
Wilson said his season is a bit synonymous with the entire team's. He started the year as a tight end poised to have a breakout year, and just like ASU, he wanted to have a better start to the season. But once Crump went down with an injury, Wilson was moved to Devilbacker.
"We've been up and down and we show flashes, but I feel like we found our identity," said Wilson, who made his first career start against Utah. "Today, I found my identity on defense. I was given an opportunity to switch (to defense) and I felt like the defense needed me more than the offense did, so I made that move and it's working out good."
The importance of practice was a common theme among players during the postgame press conference. Instead of panicking over the first five weeks, the Sun Devils didn't deviate from what they wanted to do. But coach Todd Graham said the team has been having better practices every day.
It seems cliché, but it doesn't appear he's wrong. Sam picked off Huntley on the third quarter, but he wasn't surprised one bit.
"We've seen that play in practice a million times, so it's almost second nature to shoot my shot," he said. "And I almost overran it, that's how you know I prepared throughout the week."
ASU allowed 265 yards of offense, but 81 came on a Utah garbage-time touchdown drive in the fourth quarter. The Sun Devils took care of playmakers, limiting running back Zack Moss to 52 yards on 12 carries and receiver Darren Carrington to six receptions for 56 yards without any explosive plays. To top it off, Utah converted just 3 of 10 third downs.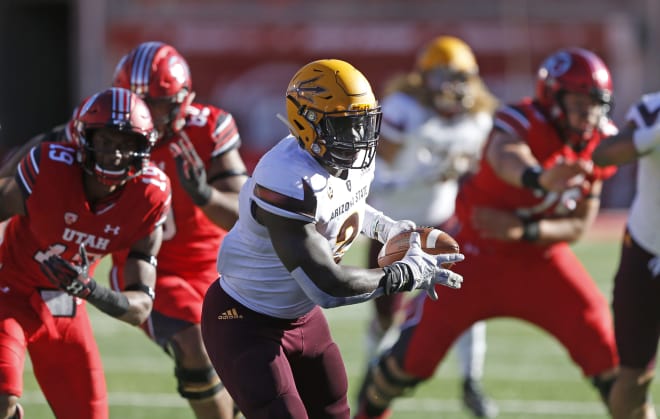 ASU defensive coordinator Phil Bennett said someone asked him if he wanted a stat sheet.
His response?
"No, I saw it. I'm too old. I don't give a s-- - about stat sheets, I just want to see the score."
Fair enough. Bennett's unit seems like it could finally be turning the page on a poor first half of the year.
On the other side of the ball, the Sun Devils were much better. They amassed 205 rushing yards, led by Richard's 93 and fellow senior back Kalen Ballage's 77.
During one drive, Richard sprung a 26-yard run before Ballage ran for 35 the next play. Wilkins, who completed 19 of 29 passes for 140 yards with an interception, praised Richard.
"He's getting hit, sometimes in the backfield, then he breaks one tackle and all of the sudden he's 5 or 10 yards down the field," Wilkins said. "Sometimes, people think those plays go unnoticed or stuff like that, but those are the plays that make teams win football games."
Richard deflected that credit, instead tossing it another way.
"It's not all about me, though," he said. "The O-Line, they've jelled together. We're starting to get that push up front. Without that push up front, we can't run the ball. We struggled the first couple weeks, but we've got everything jelling together. We're rolling."
The Sun Devils also answered in multiple spots when it looked like Utah could start building momentum. They converted 8 of 16 third downs and used a jumbo package in a few situations, which is impressive considering the Utes are known as one of the most physical teams in the conference.
Freshman kicker Brandon Ruiz has highlighted ASU's special teams thus far, and on Saturday, he made three kicks in the first half to pace the Sun Devils while the offense got going.
As a whole, ASU's win over Utah could have been a more complete performance than its victory over Washington.
"We're playing our best football right now," Graham said.
Back to the emphasis on practice. In the week leading up to its matchup with the Utes, the Sun Devils focused on not getting too high after a big win.
The coaches helped with that.
"If you don't harp on us, you can get lax, it's human nature," Richard said. "It's human nature that you come off a big win and you relax."
What about two big wins?
What about some added pressure?
Before the season, many thought ASU's three-game October stretch against Washington, Utah and USC would be its toughest of the season. But in the unlikeliest of scenarios, the Sun Devils have looked like a different team in two of those games.
They host USC next weekend in a game where the winner will have sole possession of first place in the Pac-12 South. And unlike against Washington and Utah, they probably won't be heavy underdogs.
But that won't change a thing. They'll still emphasize not getting complacent.
Can they sweep the gauntlet stretch?
"As long as we continue to play like underdogs, continue to play like people don't show us respect," Wilkins said.