Arizona State newcomer Frankie Collins feels at home in Tempe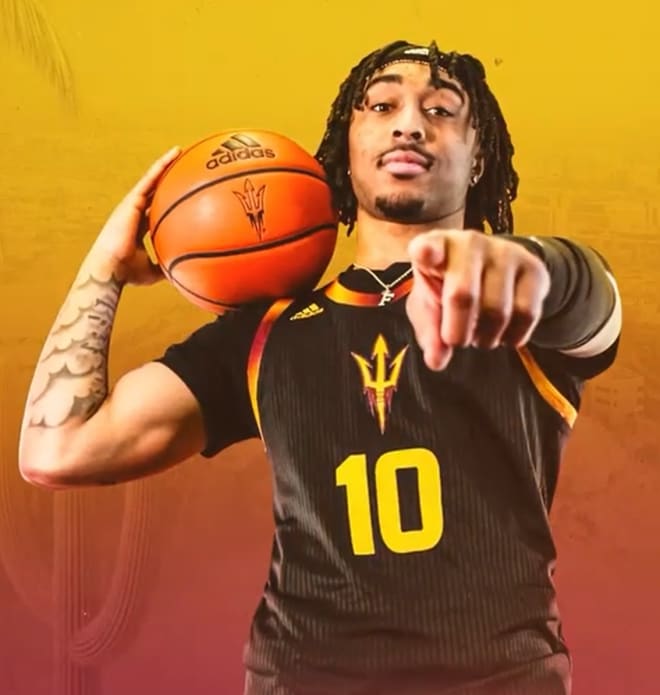 In a bustling world of transfer portal activity, a player transferring to a program with which he has a deep familiarity appears to be the exception rather than the rule. Arizona State was hardly a stranger for Michigan transfer point guard Frankie Collins, a top 55 player in the 2020 class, which was naturally a significant aspect in his decision to become a Sun Devil. ASU's newcomer isn't only excited to be in surroundings he's very accustomed to but also being part of a team where summer practices have clary conveyed the enormous potential this 2022-23 Arizona State squad possesses.
Collins' junior season of high school was spent at Chandler Compass Prep, and being in Arizona State's backyard naturally provided him a high degree of exposure to the program. The 6-1 point guard admitted that he was recruited harder out of the transfer portal than he was back then but that his existing relationship with ASU head coach Bobby Hurley was attractive to him when he once again entered the recruiting process.
"I've been to the campus so many times," Collins recalled. I got to talk to Bobby, and he got to watch me play plenty of times. Once I hit the portal, they were the first people to call instantly. Going to their games then, watching Remy Martin play…at the time when I used to live here, they were a (NCAA) tournament. I played in their gym plenty of times. So being around the school was the best part that really helped me with my decision.
"Even before I talked to Bobby for the first time, I knew about his amazing career at Duke and him being in the NBA (playing for the Sacramento Kings) because I'm originally from Sacramento. His accomplishments are amazing. So, for me to be able to learn from him would help me so much. He's a guy who wants the best out of his players and out of his point guards especially. He's a point guards coach, and that really stood out to me. And we had plenty of conversations before I transferred here. He talked about changing the program and winning and just how hungry he was. And I couldn't relate to him any more than that because I want to win, and I'm hungry, especially since I went through the portal process. That made me even hungrier. So, the relationship was already established once I visited there. We both had the mindset of what we needed to do and how to do it. we all have some stuff to prove."
And that sense of urgency by ASU in pursuing Collins' services wasn't only evident by them being the first school to contact the point guard once he was in the portal but bring him in for a visit a mere 24 hours following that initial conversation.
"It was just straight to the point," Collins remarked concerning the recruiting process. "They told me they needed me, and they told me they wanted me. There were no games, and they got straight to telling me what they liked about me and that they had a plan for me to get better each and every day trying to get to the next level. They liked my ability to be a downhill playmaker and my ability to play defense. My main focus was to improve my jump shot. And everything the coaches told me during the recruiting process has translated to practice. Everything they told me that they wanted me to do, they've been also telling me in practice…getting people involved, shooting the ball well, playing downhill, making the right passes, being a dog defensively… it's all been there in practice. Everything Bobby Hurley is as a recruiter, he's the same as a coach. He analyzes everything because he's a basketball junkie.
"The visit I had with them (after being in the portal) was different than the other visits because it there was more conversation with all the coaches. It was just us building a relationship throughout the whole visit. It wasn't even about visiting campus or anything like that. We were figuring out what the plan is for me, why they need me, where they can use me in the offense and how they see me defensively. It was all about looking into my future being a Sun Devil."
Collins, who played in all 31 games for the Wolverines, averaged 2.8 points, 1.7 rebounds, and 1.4 assists in 11 minutes of play. The lone contest he started in, a first-round NCAA tournament win over Colorado State, the point guard made a considerable impact posting 14 points, six rebounds, and two assists in a 75-63 victory. It was a performance that had several notable programs seeking him out once he officially decided to transfer out of the Michigan program.
"I had Texas A&M, Tennessee, LSU, Seton Hall, Wichita State, and some other schools reached out," Collins stated, "And I had some other visits planned after ASU. But once I left my (ASU) visit, I knew this was where I wanted to be because it all made sense. I didn't mind being away from the West Coast because I wanted to go somewhere where I knew I could grow as a player and as a person and be in the right position academically. So, coming to ASU wasn't necessarily about being back on the West Coast. When I came here on this visit, everything made so much sense, and I knew it was the perfect fit for me. And now being closer to home does make it easier."
During his Tempe visit, Collins was impressed hearing the perspective of current players, yet it was probably the conversation he had with a former player and one who represents one of the most successful Sun Devils in the NBA who played under Hurley – Oklahoma City Thunder guard Luguentz Dort, that may have left the strongest effect on Collins. Needless to say, not only seeing Dort in-person play at ASU but now seeing him flourish in the NBA only added that much more credibility to Arizona State's recruiting pitch.
"Lu Dort told me how much ASU was like family," Collins described, "how good of a guy Bobby was and how much he enjoyed playing for him. He told me to keep on working. I knew it was a family environment here because he told me whether or not I came here to ASU, we will still be able to talk, and he would be there for me."
When it comes to the here, and now, there's little doubt this season's roster, from top to bottom, is arguably the most talented group of ASU's players during Hurley's tenure. Following numerous summer sessions, Collins noted that he has been pleased not only with the sheer collective aptitude of his teammates but also with the quick forming camaraderie between newcomers such as himself and returning players.
"Practices have been going really well, and I think we're all gelling together," Collins said. "We do a lot of things to grow our relationships. We've been doing really well on the court, everyone's happy, and everyone has one objective, and that's to win. There's no selfishness on this team, and that's the best thing about it. Everyone came in with the mindset that no matter what happens, we need to win, and that has helped us so much.
"If we're consistent, stay together, and don't let any outside noise affect what we have going on - we'll be perfectly fine. We have all the pieces we need, and we have a really good athletic team. We have a team full of dogs, a team full of people who are hungry and want to win."
Join your fellow Sun Devil fans on our premium message board, the Devils' Huddle, run by the longest-tenured Sun Devil sports beat writer, to discuss this article and other ASU football, basketball, and recruiting topics. Not a member yet? Sign up today here and get all the latest Sun Devil news!