A 'big brother': In Tempe Frank Darby making a real impact on Jersey City
Frank Darby arrived back at his Jersey City, New Jersey, home one night this past summer. His phone started ringing.
Darby describes them as "bad news phone calls;" it was the fifth one he'd received since joining the Arizona State football team in 2016. By the time the fifth one came, he'd become reluctantly accustomed to the gruesome reality that his friends – members of Jersey City gangs – had passed away. He seemed certain more would join them, too.
This call, however, put him into a different sense of shock. His heart raced as he started piecing together the incomplete puzzle, running through alternate scenarios in his head.
"One got shot in his back, and another one got shot in his leg...I'm like, 'Yo, wow, I just was with them. I just was with them,, if that would've happened any sooner, I'm dropping them off, what would've happened to me?'"
— Frank Darby on growing up in Jersey City
Just minutes prior, Darby had dropped off three of his friends on the Jersey City streets and went home, where he received the call.
"One got shot in his back," Darby remembers being told over the phone. "And another one got shot in his leg."
"And I'm like, 'Yo, wow, I just was with them. I just was with them,'" he replied. "Yo, if that would've happened any sooner, I'm dropping them off, what would've happened to me?'"
Though the trio survived, the timetables spun through his head as if they didn't. If he waited with them, there's a legitimate chance he would've been shot. If he had dropped them off 30 minutes later, the same dire scenario takes place.
It was another lesson about life on the streets – a lesson he didn't need.
"Frank understood it's either the left or right in the current culture in Jersey City that if you go left, there are people waiting for you with bad intentions," said Robert Hampton, who coached Darby at Lincoln High School. "And Frank and I always talked about, the streets are undefeated, you're not going to beat the streets.
"The streets are the streets."
UNDERSTANDING THE STREETS
Sometimes Darby doesn't sleep. The gunshots are too loud.
"You're just hearing, 'Pow, pow, pow.' You've just got to wait for it to stop," Darby said. "It doesn't last too long."
It's a constant reminder of the constant violence that encompasses Jersey City, a place that gloomily boasts over 1,200 annual violent crimes. The "beef" between gangs escalates into the public consciousness of those whose safety it effects.
Darby's tone softened when he started to describe the violence in his hometown. He looked down, staring at the ground as he recalled the tragedies he's been forced to witness to preserve from.
"It's like, the way Jersey City's set up, it's a hood every block. It's a different look on every block. So, you'll be like, 'Oh, I'm about to go on Audubon (Avenue), I'm about to go on Wilkinson (Avenue),' every block it's a different hood, and everybody beef," Darby said. "There'll be like one hood, beefing with three other hoods, and they're coming around their block, just shoot whatever and then go.
"You can get caught just walking. And back home, they'll say, 'You're lacking right now. And I caught him lacking so I shot him,' or, 'I caught him lacking so we jumped him.' If you're beefing with a hood that's three blocks away, and that's where you be at, it's going to happen. It's just going to happen."
Darby has witnessed false logic contaminate the city, watching as his friends forego their dreams for "the fast money, the females, having the name."
That philosophy even crept into the Lincoln football team. During his freshman year, Darby was sharing a locker room with a teammate who is currently doing 75 years for murder and another that has since been "murdered for armed robbery," Hampton said.
With each bad news phone call, it becomes more and more clear to the 6-foot-1, 193-pound redshirt sophomore receiver: He can't turn into that. He can't fall into the traps that have eaten up so many others.
"You want to come work out with me or you want to go hang out on the block? And if you want to go on the block, we can't talk no more. I don't care. All the gangs have taken over because of the streets, and that's just all messed up, that's just not right."
— Frank Darby on choosing his path
"You want to come work out with me or you want to go hang out on the block? And if you want to go on the block, we can't talk no more. I don't care," Darby said. "All the gangs have taken over because of the streets, and that's just all messed up, that's just not right."

Sometimes – 2,400 miles away in Tempe – Darby's paranoid mind wanders to Jersey City as he lays down. His thoughts can't escape the tragic outcomes possibly looming for his friends on the streets. He can't protect them, simply reduced to trying to advise them.
"My friends are in there, and I'll be like, 'You out there on the block?' I feel like if it's 12 O'clock over here, you're calling me, and I'm talking like, 'Why are you up and why are you outside if it's 3 a.m. over there and you know how the violence is after dark? Why are you outside?'"
Darby worries about his family. One of his older brothers is into the hood, he said; the other was also involved until his marriage led him away from the streets and into a role as a family man. Darby also tries to provide constant encouragement to his younger brother – who plays basketball, a sport Darby also excelled at when he was younger.
He wants to come back to Jersey City to see them, along with his sister and mother, who Darby said has yet to come out to Tempe because of a fear of flying.
"That's the only way you can get out here is by plane so right now just trying to get her the confidence. Take a NyQuil and you'll be alright," Darby joked. "You've just got to get tougher and get on the plane."
Outside his house, conversations intended to ease his mind only ramp up his frustration and paranoia. He can't do anything but pray.
Darby was blunt talking about their reality, there are very few cases of people from his generation picking the streets then coming out. They become involved in gang activity, land in prison and eventually come back home.
Learning rarely occurs, Darby said. Instead, the process repeats itself as gangs lure members back in with open arms and fast money.
Those who join gangs are often lost to the streets for good. Darby knows that. So, in order to halt the growth of Jersey City's gang-infestation, and in an attempt to save lives and dreams, the ASU receiver provides himself as the example and open arms to combat the streets.
"Say, if I'm playing football, and I'm getting love from the fans, that's how it is, if I'm a hood person, I'm getting love from the streets," Darby said. "It's just two different things. You get love from positive people, you get love from negative people that want to keep you in the streets, and you're going to end up locked up or in jail.
"That's your two options."
BEING THE EXAMPLE
The No. 8 jersey at Lincoln High School is set to the side, off limits unless the last player to wear it gives their blessing. Before Darby wore it, the jersey belonged to Steven Jones, a 6-foot-3, 190-pound receiver who was a senior when Darby was a freshman.
Jones took a mentor role with Darby. He taught the youngster the great traits of a wide receiver and, more importantly, guided him away from the traps that so many other kids from Jersey City fall into.
But, in a sense, as described by Darby, Jones was a hypocrite.
"It was funny because he would tell me not to do certain stuff but he would end up doing it," Darby said. "He was just basically like, 'I don't want you to be like me. I want you to be better than me. I'm caught up into something else and I don't want that out of you because you've got the potential, bro.'"
Hampton was a bit more matter-of-fact.
"Steven Jones and Frank were polar opposites of each other," he said. "Steven Jones was a thug."
Darby wanted to provide others with the wisdom, tutelage, and advice Jones gave him – but he wanted to follow what he was telling others to follow. He didn't just want to be a voice, he wanted to become a role model, someone that kids at Lincoln could not only talk to for advice but watch him firsthand.
When school ended in May, Darby could have stayed in Tempe, away from the violence in Jersey City – but then the Lincoln football team wouldn't have had the chance to see their big brother.
"They always are calling me and be like, 'Big bro.' It's crazy when I get back home, I'm always getting text messages, 'When are we working out? When you hitting the fields,'" Darby said. "And I look at it like, 'Yeah, we gonna hit the field. We gonna hit the field. I'm going to teach y'all some things.'
"I'm like, 'These my little brothers so I'm going to take care of them – by any means.' I'm going to take care of them when I'm home."
"He shows up to make sure kids realize that he's flesh and blood. The same nonsense they deal with, the same girls, the same traps they're going through now....they can sit and have a nice talk. The things they can't tell me – because I'm 57 – they can tell Frank."
— Lincoln High School coach Robert Hampton on Darby's influence
Darby doesn't just live in legend at Lincoln. The kids who watch him in maroon and gold on Saturday's don't just say, 'He went to my high school," they say, 'I know him."
There's a difference there that Darby is well aware of – it's why he does a lot of what he does.
"He shows up to make sure kids realize that he's flesh and blood," Hampton said. "The same nonsense they deal with, the same girls, the same traps, the same bullshit he went through at Lincoln, they're going through now. So they can sit and have a nice talk. The things they can't tell me – because I'm 57 – they can tell Frank."
Though he doesn't have the official title, Darby is a coach for the Lincoln football team. Hampton and Darby talk about the team constantly; if the ASU receiver hears about a player whose mind is in the wrong place, he'll ask for their phone number and call them.
One of those whose mind wasn't 100 percent on football was Jahquinn Wembley, a player whose approach to football has drastically changed because of Darby's influence, Hampton said. Wembley – along with countless other players – send Darby their tape to look over and critique. It's become a yearly ritual.
The Arizona State receiver doesn't just gloss over it – he intently watches and analyzes it following up with specific things the player can fix and what he thinks they can add. In certain situations, Darby even reaches out to the Lincoln coaches and talks about the film with them.
"When Frank comes home, he doesn't just pick certain people to work out with him; he'll make sure that anybody that needs help, he'll come out and help them," Wembley said. "He gives us motivation. He wants us to have the same success as him. He's gives back to Lincoln. All the success he has, instead of doing nothing, he'll likes to come back and help us out."
After Darby graduated – finishing off his senior season with 35 catches for 957 yards and 10 touchdowns – Hampton came to Darby with concerns about the legacy of the No. 8.
"I don't think I'm going to give nobody 8," Darby recalled Hampton telling him. "You and Steven Jones, y'all did your thing with it."
But Darby was confident in Wembley. Like Jones did for him, Darby had served as a mentor for Wembley and saw his potential of going to a Division I school. It only seemed fitting that he would carry on the legacy.
"I was telling him like, 'Wembley's got it. I've got faith in him, he can put that eight on and keep the era going,'" Darby said. "He's always calling me, always checking up on me, asking what he can do to get better. And I was mentioning yesterday, he's one of the guys that's always calling me asking me what we can do or when we're running routes and stuff."
To Darby, interactions like the ones he has with Wembley are far more important than helping a kid become a better football player.
He believes two things can take someone in Jersey City: the streets or sports.
As Darby mentioned, the streets entice with promises of women and money. Darby captures the attention all the same; raving about his own experiences in Tempe, the degree he's going to attain and the opportunity to play Division I football.
Even so, the redshirt sophomore believes the streets are still taking "a lot" of kids. He'll do anything he can to prevent that from continuing.
"A lot of people are falling to the streets thinking they're not good enough for a certain sport or just wanting to be like everyone else and that's just not the goal," Darby said. "I'll be trying to show them that's not the goal. Every time I come home, I would try to get as many kids playing football to come workout with me."
Players on the team understand what Darby is doing and the impact he's making. It may take some time, however, to fully realize its effects."
"Because football in Lincoln keeps you out of the trouble, out of the mix," Chris Pena, a member of the Lincoln football team, said. "Coach Hampton makes sure we're staying out of all that. He teaches us in practice a lot and we're working all day every day from winter to summer, it's nonstop. It keeps you out of that violence, it keeps you out of the mix."
Darby's presence as a former player coming back to help Lincoln is nothing new. Ronald Butler – a former Lincoln receiver who left the program in 2010 and moved on to Utah State – has come back, even working out with Darby over the summer.
But Darby is more contemporary to the current crop of Lincoln football players. They watch him on Saturdays and keep up with his vibrant social media, quickly grasping what it entails to play for a Power 5 program.
Darby floods his Twitter with mentions of New Jersey; those following from Jersey City can't help but take motivation from each post.
"It's like real exciting because you just see Frank on TV and you think of moments in the locker room, moments on the field and the work we put in with him and it's like, 'Wow, we work with that guy," Pena said. "I know that guy and he's making everyone in Jersey City look good.'"
And as Darby succeeds, so does Jersey City.
FROM JERSEY CITY TO TEMPE
Darby's eyes lit up; he basked in the sight of unfathomable beauty. He – still uncommitted at the time – was at the top of a Tempe hotel with then-ASU wide receivers coach Jay Norvell in the summer of 2016.
He became instantaneously awestruck. These weren't the stacked neighborhoods of New Jersey; downtown Tempe seemed to span out for miles and miles. The ASU campus was empty. It was just Norvell and him – kings of the campus.
"He thought he died and went to heaven," Norvell said. "He was in paradise. He couldn't have even imagined such a place."
He began FaceTimeing his friends back home, practically opening their eyes to a different planet. In some ways, it was Darby's reward for devoting his life to football, for keeping tunnel vision while so many others looked in the rear-view mirror.
It was extra sweet, too, because it was so close to never coming to fruition.
Darby was committed to the University of Iowa for his junior and senior season. But as National Signing Day neared, the program became nervous that Darby wasn't going to pass the SAT.
But, he did pass.
He was NCAA qualified and ready to become a Hawkeye.
"And when I told Iowa I passed it was like they were surprised as if I wasn't going to pass and qualify to come to school," Darby said. "When I got to have a conversation with coach (Kirk) Ferentz – the head coach over there – he already had told me that I hadn't owed him any loyalty, he told me I ain't owed him any loyalty to stay there and I was like, 'Alright, cool, I'm just going to open my recruitment back up.'"
Let's step back one second.
Iowa had reasons to doubt Darby's ability to pass the SAT, but that seems to be when he excels the best – when others count him out. So, unable to train after the season due to an ankle injury he suffered in the first half the state championship game (Lincoln lost in the final seconds), he didn't mope around saying, 'Woe is me.'
Without really telling anyone, he became ingrained in the Khan Academy SAT prep – a website that provides online classes and lessons – even hiring an SAT tutor to help him first-hand.
"That's the type of stuff Frank does. He doesn't tell anybody because he doesn't want to tell anybody. But he's going to grind in the dark while everybody else is partying and bullshitting," Hampton said. "Because he knew he has brothers and sisters at home that need a role model. He did the Khan Academy, got his SAT up to make sure he could be qualified and he did."
Iowa wanted Darby to attend Milford Academy, a post-secondary school in New York, before going to Iowa City. He, with Hampton by his side, decided to move on.
Insert Norvell and ASU.
Ironically, though, Norvell played defensive back in college for Iowa. While he moved on to coach college football, his teammates moved back to their hometowns mostly scattered across the northeast.
"A lot of my college teammates are high school coaches back there and I got a call in the spring from one of my college teammates and he told me about this kid," Norvell said. "So, I looked at his film immediately and I called him back and I said, 'We'd love to have that kid at Arizona State.'
"So as soon as spring recruiting started, I jumped on a plane, went to New Jersey and went to Lincoln High School there and saw Frank and his coaches and I loved the kid as soon as I saw him."
Before that visit, Darby thought his Division I college football dreams may have vanished; those thoughts didn't exactly fade out even after Norvell introduced himself, either. The reason?
"I didn't know anything about Arizona State," Darby said. "I had to Google it, look it up, ask questions about it and I found out it was a Power 5 school."
Norvell – who is now the head coach at Nevada – chuckled as he reminisced about his first meeting with Darby; he couldn't stop raving about the receiver he described as "the reason you get into coaching."
When Darby trekked to Tempe for his ASU visit, however, Norvell thought it may be tough for him to feel like ASU could be home. After all, it was 2,000 miles away and featured a landscape and climate that was almost the polar opposite of New Jersey.
"It's so much different," Norvell said of Tempe. "It's like being dropped off on the moon or something compared to living in Jersey City."
But others had made the transition from Jersey City to Tempe. One of them, too, just happened to be the Sun Devils' head basketball coach.

Like Darby, Bobby Hurley grew up in Jersey City. Before going to Duke, he played for his dad, and legendary high school basketball coach, Bob Hurley at St. Anthony High School, just two and a half miles down the road from Lincoln.
Hurley took Darby up to his office and talked about their Jersey City connection among other things.
"For two guys to be so far away from home in such a different place, it was just great," Norvell said. "Coach Hurley was awesome. (He) just made the kid feel like he had someone else there that knew where he was from."
On May 18, 2016, Darby committed to ASU over Rutgers and Boston College. He was tested — put through adversity that would have cracked most — but at long last Frank Darby was a Power 5 college football player.
OPENING THE GRIND BOOK AND CROSSING OFF GOALS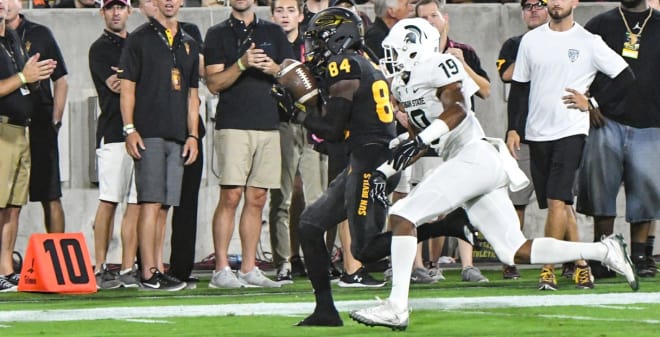 "One of my goals this offseason was to not get outworked. Nobody is going to outwork me this offseason with lifting weights, running, condition, routes, all that. I'm going to work the hardest out of everybody."
— Darby on his preparation for this year
Like many others, Darby is a goal-setter. He goes one at a time, refusing to write another down until the previous one has been crossed off. But what he writes down doesn't resemble what many consider to be the typical, stat-based goal.
Darby looks at stats as simply "whatever God gives you."
"One of my goals this offseason was to not get outworked. Nobody is going to outwork me this offseason with lifting weights, running, condition, routes, all that," he said. "I'm going to work the hardest out of everybody."
Each goal is written down in his "grind book" – a little notebook that he's about 20 pages into so far – along with any workouts he comes up with and wants to run with fellow receiver N'Keal Harry.
He also jotted down some of the short-term goals he had for the season: work hard, know all the plays, compete and become a starter. The latter of that list looked like it was going to become a reality as fall camp began.
He was splitting first-team reps at the Z-receiver position with redshirt junior Terrell Chatman. Then, about a week into camp, ASU went up north for some team-building activities at Camp Tontozona in Payson, a decision head coach Herm Edwards made after the Sun Devils' fall camp practices up there were canceled due to construction delays with a new artificial turf field.
Among the team-building activities was a hike up notorious Mt. Kush, which is of course named after former ASU coach Frank Kush. But on his way up the mountain, Darby sprained his ankle.
He wasn't able to practice for weeks. Instead, Darby was designated to the Verde Dickey Dome during practices with the rest of ASU's injured crop. All the while, junior college transfer Brandon Aiyuk was lighting up the practice field in place of Darby.
Darby's roommate, and ASU redshirt sophomore cornerback, Chase Lucas was there to provide the injured Sun Devil receiver with updates and motivation after practices.
"I could tell he was down in the slumps," Lucas said. "I was injured during spring ball, and he picked me up every day, like, 'Come on 24, you're going to get better.' Frank, he's a tough guy, he doesn't like emotions and personal problems getting mixed into his work. I asked him one time how he was doing, he said, 'I need to go home.' I could tell he was getting a little emotional so we went to the crib and talked for a little bit."
The moment's significance seemed larger as Darby recounted it over a month later.
"I ain't got no family so he's basically a family member that I'm living with and with support and his caring, it's only just keeping me up, keeping me going," he said.
That's the other thing about the 6-foot-1, 193-pound receiver, he rarely allows what's happening in Jersey City effect his football life.
"I don't try and let things like that flow into the business part of it – because I'm in a business now," Darby said. "Once I start weight room and stuff, I try to get all that off my mind. But when I'm home, I'm definitely thinking about it. I just don't want none of the stuff I hear back home to affect things here."
As he does for so many kids back home, Darby's teammates and coaches at ASU provide him with the love, encouragement, and motivation that makes him understand, quite possibly, the most important lesson he could, the one he wants to convey to every kid in Jersey City: "Someone else cares."
Last November, Darby went over to offensive coordinator Rob Likens house for Thanksgiving. Likens – who was then ASU's receivers coach – joked that "Darby wouldn't leave the table.
"Frank sat there at the table the whole time and ate, talked with my family the whole time, it was awesome, and I think that he really enjoyed, like, 'Okay, this is a cool little family atmosphere, and I like this,' so that was fun."
THE INCOMPLETE PASS
Darby walked off the SDCCU Stadium field last Saturday just minutes after referees had ruled his 48-yard catch, which would have given ASU the ball at the goal line with six seconds left down a touchdown, incomplete.
While reviewing a targeting penalty against San Diego State safety Trenton Thompson, the referees came to the conclusion that the ball jarred loose from Darby's arms and hit the ground.
But as he walked to the sidelines, tears streamed down his face. He was distraught, waving his arms and talking his frustrated self through the 'catch.' All of the sudden, Harry rushed over to his friend. He put his arm around Darby and consoled him.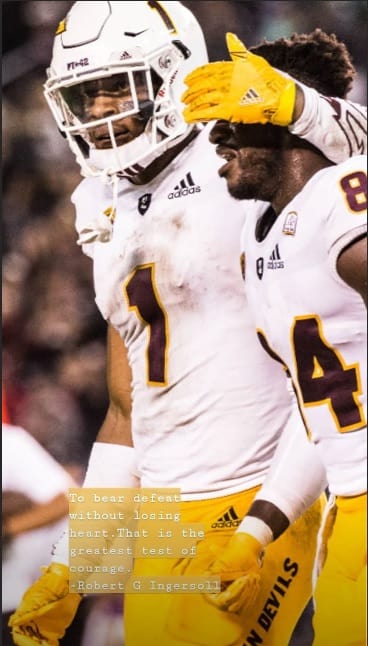 "He came, grabbed, put that arm around me and he told me, 'Bro, keep your poise. Keep your poise, it's OK. It's OK, I've been in a situation like this before, too," Darby recalled Harry telling him.

Darby reached the sidelines and collapsed. He'd beaten the odds 100 times over, quite possibly saved lives in the process. No way one call was going to beat him.
"I know how hard he works," Harry said. "He sacrificed a lot, he's very far from home, and I really see him dedicate many, many, many hours more than the regular person to this game, so he really deserves everything coming his way."
While describing what Darby's energy brings to the team, Likens said that his game day presence has become "legendary." Before he trotted out on the field for ASU's final drive Saturday, Darby was speaking the motivation gospel to the sidelines, reminding them that miracles happen all the time in college football.
Indeed, they do. The evidence was standing right in front of them.
Can't get enough ASU football and recruiting coverage? Join us on our premium message board, the Devils' Huddle. Not a member yet? Sign up today here and join your fellow Sun Devil fans!