6-foot-4 SoCal defensive end Kevonte Henry discusses recent ASU offer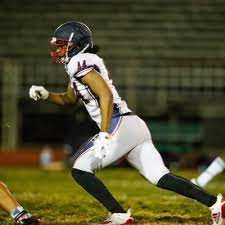 Kevonte Henry picked up an offer from Arizona State two weeks ago after a call with wide receivers coach Prentice Gill, who chatted with Henry for a half-hour about ASU before delivering the good news.
"He just sounded like a familiar dude to talk to from LA," Henry said of Gill. "He came off as cool and easy to talk to. Some coaches come off as straight, and some don't. I could talk to him like a regular friend."
Odd thing is, Henry isn't a wide receiver. But the Sun Devils' recruiting approach has almost transitioned in the way of NBA offenses: positionless. Coaches from every position group have been known to all call one recruit, an effort to show how invested they are.
Henry saw ASU's interest from the jump – and there's a lot to be interested in.
He's a 6-foot-4, 227-pound defensive end out of Lawndale, Calif. Ranked as a three-star prospect; Henry has racked up nine total offers including those from ASU's Pac-12 counterparts USC, Washington State, Colorado and Arizona, as well as Michigan, among others.
Henry said ASU is recruiting him as a defensive end or outside linebacker, adding that he is working on putting on weight this summer to play D-end in college.
"I can just adapt to any situation and play real quick. Even if I don't know the play, I will play like I know it," Henry said. "I'm known for my speed when I get off the edge. The o-line has a hard problem because I get off too quick. They always tell me like, '4-4, you're too fast. You have to slow down.'"
Henry said he gained some familiarity with ASU because he was acquaintances with Jordan Banks, the four-star linebacker out of Narbonne High who committed to the Sun Devils in the Class of 2020.
"Someone was like, 'Your old bro went there,' and I was like, 'Oh for real?'" Henry said.
He said that he really likes that there are a number of ASU coaches from Southern California – including Gill, defensive backs coach Chris Hawkins, defensive coordinator Antonio Pierce, and more. It's a group of people who understand what he's going through as a really good recruit from LA.
But they didn't have to play a spring football season like Henry did this year at Leuzinger
"I think I did dope just not being able to play for a whole year, and we just got back within a week," Henry said before adding what he wants to improve upon in his senior season. "Just want to work on my hands and just get bigger. I'm trying to get to 240 or 245 pounds. I'm at 227, so I'm not that far off."
Henry noted that he wants to commit in the spring and will lean on those close to him to help make his decision.
"I'm just going to have a conversation with my coaches, and he'll help me with my choices," he said.
Join your fellow Sun Devil fans on our premium message board, the Devils' Huddle, to discuss this article and other ASU football, basketball, and recruiting topics. Not a member yet? Sign up today here and get all the latest Sun Devil news!