{{ timeAgo('2020-11-22 14:18:00 -0600') }}
basketball
Edit
2021 Rivals150 point guard A.J. Neal intrigued with Arizona State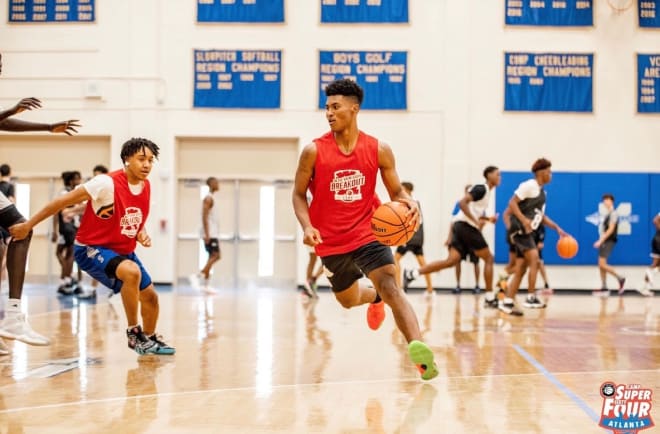 Arizona State didn't really jump into the recruitment of AJ Neal until late May. No, that's not when he got an offer. That's when the Sun Devils hired assistant coach Anthony Coleman.
Coleman oversaw ASU's big men from 2016 to 2019 before taking a one-year hiatus to be an assistant at Colorado. Prior to all that, though, Coleman worked in Adidas' marketing department -- which is how he first met Neal.
Neal's mom, Diana, is an experienced AAU coach around the South and has taken her team to the Adidas Nation camp. Coleman was likely there to see Diana Neal's star player, Dwayne Bacon -- the former Florida State guard who is now with the Charlotte Hornets -- but began speaking with A.J.
By the time Coleman made it back to ASU, Neal was a three-star point guard with more than two dozen offers. For now, the Sun Devils aren't a part of that list, but Neal said he expects ASU to hand him an offer "pretty soon."
Regardless, his excitement about the Sun Devils is already astronomically high.
"They're trying to get good guards and I'm ready for all that. I'm ready to go to Arizona State if they give me a chance. They'll be in the mix," Neal said before speaking about Coleman. "I know I can help the program when he's coaching me," Neal said. "(Coleman) says it's a good program and that I could fit right in."
So far this season, playing in three games for West Oaks Academy in Orlando, Neal is averaging more than 17 points, 7 rebounds and 5 assists a game.
Speaking about his game, Neal said he's a shooter, a guy who can knock down 50% of his attempts from beyond the arc while also being a point guard with court vision that will set up his teammates.
He speaks like a player who wants freedom on the court, a player who could thrive in a program that dubbed itself 'Guard U.'
"I feel A.J. can be successful playing that style," said Diana Neal of ASU, "They love to push and want to win, which is big to me. A.J. has been playing an up-tempo style since 9th grade in travel ball and nationally West Oaks Academy, where he's grown going against a lot of the top players (in the country)."
Added A.J.: "I've been watching Arizona State for a long time now … I see how active their guards are. I went against Luguentz Dort in high school, I went against Josh Christopher. Like I see how their guards play and I like that style of play."
Neal said he played against Christopher last year at a tournament in Las Vegas. He's watched hours of highlights for both Christopher and Marcus Bagley -- the two five-star recruits ASU landed this year.
"Marcus Bagley, I saw his highlights, and he's really good. Like, I didn't think he was going to be that good. To me, I think he was better in high school than his brother (Marvin Bagley)," Neal said. "Josh Christopher, he's just different. I really thought he should have been the No. 1 player."
As he speaks of them and sings their praises, he admits it would be incredibly cool to play alongside them -- three guards unleashed in Hurley's offense. With the NBA Draft looming for both, that feels like a longshot.
Although all the other Power-5 offers Neal possesses -- namely Auburn, Florida State, Georgetown, and Oklahoma State -- it's clear that he's done his research on the Sun Devils and truly devoured their film to see how he may fit -- if an offer ever arrives.
Plus, he notes, he would love to get out of the East Coast.
"I would really like to go to the West Coast because I see how it is compared to Florida," he said. "I've been in Florida so long, so the West Coast would be different."
Neal said he plans on committing in January or February and isn't concerned if he never goes on an official visit -- which became more likely after the NCAA extended the recruiting dead period through, at least April 15.
Until then, Neal will look for the school that best checks the boxes on his wish list.
"I'm looking for the staff love, the player love, and the fan love," he said. "That's all I'm looking for -- and playing time."
Join your fellow Sun Devil fans on our premium message board, the Devils' Huddle, to discuss this article and other ASU football, basketball and recruiting topics. Not a member yet? Sign up today here and get all the latest Sun Devil news! FOR A LIMITED TIME, new annual memberships will pay just $75 for the first year use promo code adidas75 or NIKE75 to get a $75 digital gift code to either apparel store.