Jalen Graham's play in July garners double-digit offers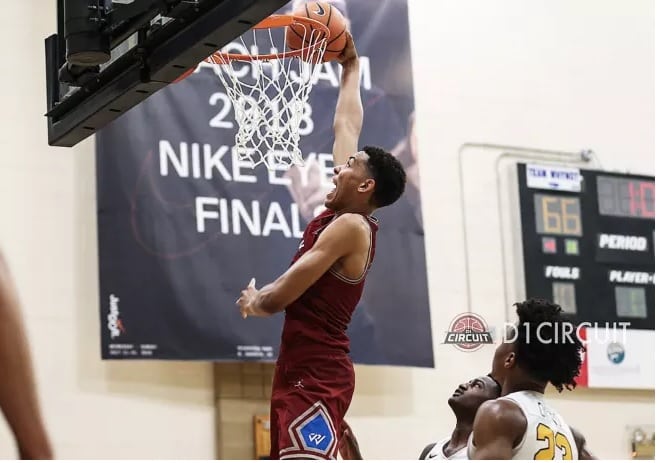 For Phoenix Mountain Pointe forward Jalen Graham, the July evaluation period worked like a charm. Today, the 2019 prospect finds himself with ten offers to his name, with the hometown school recently joining the fray.
"Arizona State has been recruiting me for a little while," Graham said. "I've been going to their summer camps since my sophomore year. They started really talking to me after the Peach Jam and this last tournament in Las Vegas they were even more serious and offered me.
"I played for Team Why Not and their (ASU) commit Jaelen House plays there too, so the coaches got to see me a lot when they were checking him out. It definitely helped me get that offer. I checked out the school and the basketball facility there and it's everything basketball related is crazy there and really nice."
By his own admission, the forward is, on the one hand, happy that a nearly month-long of tournaments has come to an end, but isn't oblivious to the fact of the benefit that these contests have provided for his recruiting.
"This month has helped me a lot," Graham commented. "I had no offers last month. Coaches told me that they really liked my defense and rebounding and the way I finish near the rim. I feel that my strength is shot blocking and defending other bigs, my post game. I pass the ball well too. I need to work more on my outside shooting."
Recruiting analyst Eric Bossi who has been tracking Graham for the last few weeks offered his evaluation on the local forward.
"Each summer one of my favorite things is seeing the kids who go from obscurity to having more scholarships than they can count. I've got a feeling that Jalen Graham of Team Whynot could be that guy...long armed, athletic and active on both ends of the floor, Graham entered July without a single scholarship offer. If he keeps blocking shots, defending in space, grabbing key rebounds and showing signs of scoring ability, he'll have double digit scholarship offers by the end of the weekend."
With the recent slew of offers, Graham naturally has a lot to sort through in the upcoming weeks but knows of a few schools that are very likely to receive a visit.
"I'm taking everything it all in right now," Graham remarked, "and soon I'll start thinking what schools are interested in me and what schools I want to check out. I was really excited about the ASU offer and that means a lot. So I know I will definitely visit them and talk to the coaches. I think that I will also visit Oklahoma, Nevada and Texas Tech.
"I plan to sign in November. I'm going to look at the schools and see how I fit in the program, see if they really want me or am I just another recruit to them."