Dominique Harrison commits to ASU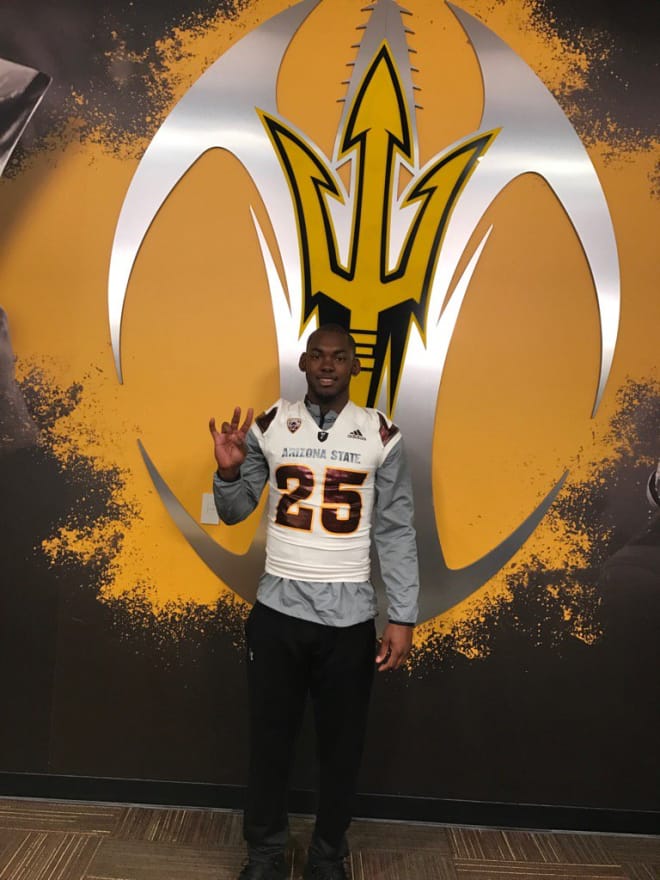 At one time Dominique Harrison was contemplating signing as a member of the 2017 class, but later on decided to go back for his sophomore year at Blinn (Tex.) College. What hasn't changed throughout the recruiting process though was his affinity to Arizona State. His pledge today marked the first commit in the Sun Devils' 2018 class.
Harrison visited Tempe in February, and ever since the program has been squarely on his mind. The factors that impressed him then, are the same ones that led to his decision now.
"I was really comfortable with the coaching staff," Harrison said. "I feel that I can make a big impact when I get there. I felt that they really wanted me, it's a good atmosphere and they have cool players to hang around with. Academics is my main priority and they showed me how important it is to get my degree. That was part of my decision too.
"I was thinking hard about my decision, I was praying about it and talking it over with my family. I knew that this is the school I need to be at."
At the time that he visited Tempe, Harrison was considering a visit to West Virginia as well. He added that Colorado, Iowa State were other schools pursuing him. Ultimately, Arizona State was the only school he visited out of all of his suitors.
"The coaches like how I'm an all-around cornerback," Harrison remarked. "They really like my ball skills, how I attack the ball, how I'm aggressive in the bump and run. They really like how explosive I am, getting interceptions. They told me that I'm their number one cornerback on the board so they are really excited.
"I really clicked with the coaches. I feel that they gave me their honest and true opinion that I can come in and make an impact. With their depth chart, they need cornerbacks and I feel that I can come in and play right away, compete in the Pac-12."
Harrison prepped at Atascocita high school in Houston and signed with Fresno State. Since he was a non-qualifier he attended Blinn College one hour out of Houston. Even though he didn't start at Blinn until the fifth game of the year, he made his mark fairly quickly leading the school with four interceptions, in addition to his 23 tackles and ten pass breakups.
"I'm trying to finish strong and get my associates' degree," Harrison said of his plans this year. "I want to be an All-American JUCO cornerback. I want to leave my mark in junior college."
Harrison is scheduled to graduate in December and will be a two for two player eligibility wise.
Join us in the Devils' Huddle to talk more about this ASU commit and Sun Devil recruiting