Offense leads Sun Devils to dramatic four-point victory over Cougars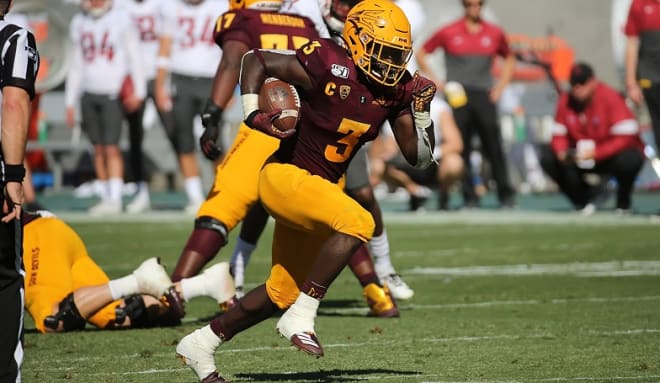 No. 18 Arizona State's (5-1, 2-1 Pac-12) track record playing as a ranked team under coach Herm Edwards was not good coming into today, as the team was previously 0-2 with a loss at San Diego State last year and Colorado at home just a few weeks ago.
The Sun Devils were ranked higher this time though- their highest AP poll ranking since the 2015 preseason poll- and played like it in front of the home crowd, grinding out a 38-34 victory over the Washington State Cougars (3-3, 0-3 Pac-12) in a rare afternoon game at Sun Devil stadium.
"I told these guys they're going to give me a heart attack," Edwards joked about what he told the players after the game. "What're y'all doing? I'm 65 years old, what are you guys doing?"
What ASU did was pull off another down-to-the-wire victory, as now eight of Edwards' 12 wins with ASU have been by seven points or less, including three of the last four. However, by now, about 22 months since Edwards was hired, it has been made abundantly clear that this young Sun Devil team thrives in such situations.
"If you watch them play, they don't quit," Edwards said. "They don't know any better. There's 29 freshmen, they don't know any better, they just play."
Things didn't seem like they'd go ASU's way late in the game, as the Sun Devils went three-and-out on a drive that started from their own three yard-line. This forced a punt by the normally reliable sophomore, Michael Turk, which went for only 29 yards, giving WSU starting field position at ASU's 36. This was with five-and-a-half minutes to play in regulation, in a game tied 31-31.
However, despite a challenging day overall against the Cougars potent offense, led by legendary head coach Mike Leach, the Sun Devil defense held strong to keep the Cougars to a 31-yard field goal.
"There's a lot of moments in that game that- I always tell the players, 'that's why you play this game," Edwards said. "Some of them get overlooked because they're not the play that wins the game. There is a lot of little plays, I'm telling you. Bad punt, hold them to a field goal, I mean, huge."
This gave ASU one more chance to salvage the contest, one that proved to be evenly matched and worth watching from start to finish. True freshman quarterback Jayden Daniels had to lead ASU down the field from their own 25, down by three points, with 2:30 left in the fourth. Luckily, for the Tempe faithful, this was far from anything new for the true freshman and his offense, and- in case you forgot- they're led by a head coach who plays to win games, a quote he has been made famous for.
"Now, we had to score," Edwards said. "We were going to score a touchdown; I did not want to go to overtime. That was not in my thinking at all, we needed to score and get this over with, and it worked out in the end, we were fortunate."
On the first four plays of the drive, WSU was playing deep to prevent any long touchdowns. Daniels read this perfectly, and dumped off four consecutive screen passes to junior running back Eno Benjamin, who got 30 yards and two first downs combined on those looks.
After an ASU timeout with 1:07 to go, the turning point of the game came on a 4th & 2 from WSU's 40 yard-line. Just out of field goal range, the Cougars- leading 34-31- could've ended things with a stop. Instead, the Sun Devils turned to ol' reliable, feeding Benjamin and getting a gain of five.
"We knew what the situation was going to be, and no one panicked about it," Benjamin said. "We knew it was going to be a dogfight, and I think, just even before going out there on that last possession, me, Jayden and (senior receiver) Brandon Aiyuk were talking and we were saying 'it's Michigan State all over again.' Everyone was calm, I think we do a good job with our coaches as far as them making a game-plan, and I think the players do a good job trusting it as well."
Fast forward two more plays, which were both completed passes to Aiyuk for a combined 23 yards, and ASU had a 2nd & 2 from 17 yards out. Daniels, as he has done so many times, read the coverage perfectly, took off running, and- as he has alluded to before when talking about smart sliding- knew this was a situation where he might have to sacrifice his body to find the end zone, which is exactly what he did.
"The play was supposed to be to B.A. (Aiyuk)," Daniels said. "I saw the middle of the field wide open; I saw number 13 just drop back and try to take it away, and then it just opened up, I just took off and ran, and scored."
This capped a game in which the offense hit some new season highs, starting with points (38), as well as Daniels's new career-high 363 passing yards, which came off of 26-for-36 passing, plus three touchdown throws with no interceptions. Not to mention, 41 yards on the ground and the game-winning touchdown.
Aiyuk was the main beneficiary, going for a career-high 196 receiving yards off seven catches- three for touchdowns, also a career-high which matches his entire 2018 total.
As if Aiyuk's performance wasn't impressive enough on its own merit, the senior was playing through a mild sickness, which he revealed to the media after the game.

"A little bit," Aiyuk answered to a question about him being sick, something that was evident in listening to him speak. "I didn't feel it at all during that second half."
Players take the podium. Brandon Aiyuk admits he played through a sickness, says it's so fun to play with this team he didn't even feel it

— DevilsDigest.com (@DevilsDigest) October 12, 2019
Then, of course, there's Eno Benjamin, arguably the staple of this offense. The junior ran for 137 yards (7.2 per carry) and a touchdown, which proved to be a huge fourth-down play, in addition to 34 yards on six catches, most of which came on that game-winning drive.

Of course, the defense wasn't exactly the star of the show tonight, much like ASU's loss to Colorado in September, but Edwards knew what was coming, and believes strongly that his team has what it takes to beat anyone.
"I thought the defense, at times, they gave up some big plays and that's what hurts you against a team like this," Edwards said. "Going into this I said all week, this is not going to be a 17-14 game. We knew offensively we were going to have to score in the 30s to win a game like this.
"The last time we possessed the ball I went over and talked to Jayden and I said 'This is it, go win the game. Let's go win the game and close it out.' The offensive line agreed and to their credit, they found a way to do it."
He went on to call the group resilient, which is a trait ASU showed today after going down 10-0 early on, showing shades of that loss to the Buffaloes, and even after having to dig out of a seven-point hole in the early minutes of the fourth.
Even though the defense wasn't necessarily the unit impressing everyone all afternoon, they were on the field last in ASU's victory. WSU had 30 seconds to do something, down four points from their own 16, and although they got down to ASU's 43, their senior quarterback, Anthony Gordon, could not even get one final throw to the end zone thanks to a game-clinching hit by sophomore defensive end Jermayne Lole.
A few other notable defensive performances include junior Jack Jones, who was beaten on throws throughout the game but led the team both with 11 tackles and five passes defended. On that first matter, this was something defensive coordinator Danny Gonzales said Jones should've been getting more help on from the safeties.
"Jack was supposed to have help," Gonzales said. "So, the guys that were dropping that were helping, they were dropping right past it instead of right in front of it."
In addition to Jones, sophomore linebacker Tyler Johnson (two tackles, 0.5 tackles-for-loss, pass defended) and redshirt freshman safety Cam Phillips (eight tackles, 0.5 tackles-for-loss), returning for the first time since dislocating his elbow three weeks ago, also made contributions.
"We trusted the coaches, and we trusted what they were doing in the film room, and we just went out there and practiced and we just played," Jones said. "We played hard. We can't fix something that's not broken."
On that note, the defensive backs had some stats to their name in general, despite a very up-and-down day overall, both for their unit and that of the pass-rush. Junior starting corner Chase Lucas tallied seven tackles, one for loss, while senior cornerback Kobe Williams plus sophomore safety Aashari Crosswell each added two passes defended.
The Cougars used their full complement of receivers, led by senior Easop Winston Jr. (14 catches, 118 yards, TD), followed by senior Dezmon Patmon (6 catches, 97 yards, TD) and sophomore Travell Harris (4 catches, 79 yards, TD).
In the end, the efforts of Leach and the Cougars were not quite enough to earn the team's first conference win of 2019.
From ASU's end, this win's significance is in how different it is from the four others in 2019. The Cougars put up 34 points, matching the Sun Devil defense's season-high, meaning the offense would have to break its own previous season-high of 31 points to win it, which is precisely what the unit did.
The Sun Devils stuck around; trailing by 10 after a quarter, tied 17-17 at the half and trailing at several key points in the fourth quarter. Nevertheless, none of that mattered, as this group proved its mettle against a tough WSU team, who was practically ranked in the same spot ASU is now just weeks ago.
"I think that's just a credit to the brotherhood we have now," Aiyuk said. "Like Eno was saying last night, we have brothers on both sides of the ball.
"Last year was kind of the offense thing, or defense thing, and this year, these two guys sitting right here (Jones and sophomore linebacker Darien Butler), those are my brothers as much as those two guys on the other side (Daniels and Benjamin), and I think that shows up in these types of games."
The Sun Devils return to action next Saturday, when they will head north to visit the No. 15 Utah Utes in a game that could play a huge role in ultimately determining Pac-12 south. It will kick off at 3 p.m. Arizona time and air on Pac-12 Network.
Join us on our premium message board, the Devils' Huddle, to discuss this article and other ASU football and recruiting topics. Not a member yet? Sign up today here and join your fellow Sun Devil fans!