ASU misses on QB but lands big results at key spots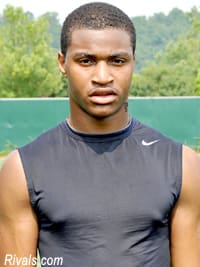 But when he took the podium Wednesday afternoon to discuss his second recruiting class in Tempe, he didn't need his usual bag of tricks to sum up his haul.
All it took was 13 words.
"Every guy who was supposed to sign with us did other than one," he said.
And that "one" who chose to go elsewhere left a large shadow over the rest of the class, the majority of which signed without much drama surrounding them.
"Obviously that wasn't the plan," Graham said of not signing at quarterback. "You don't win every battle, and can't get every kid. All we can do is do things the right way, and that's what we did."
Despite losing out on the two 4-star signal-callers, Graham still feels good about his team's situation at the most important position on the field with a junior and two sophomores returning next fall.
As for the players ASU was able to sign, the Sun Devils snagged a total of 27 athletes, with their class ranking No. 32 in the nation by Rivals, four spots ahead of rival Arizona.
"I feel good about the young men that we have added in this class," Graham said. "We don't just look at film and offer scholarships. We access and evaluate our existing personnel. I am the personnel director, and involved in every aspect. We want to be the smartest in the league."
The biggest anomaly about ASU's class is how junior college heavy it was with 10 players coming from that route. With just eight scholarship juniors on the roster returning, however, the Sun Devils needed to replenish their ranks with more experienced and game-ready athletes than usual. Importantly, four of the 10 junior college additions have three seasons of eligibility remaining.
"I think we can sign the best junior college players in the country, we have the opportunity and the ability to attract the best junior college players in California and Arizona," Graham said. "I will just point to this year, and the success that we had being able to bring in those guys in and transition them. I don't think every staff can do that."
Broken down even further, ASU signed 16 defensive players and just 11 on the offensive side, further carrying on the Sun Devils' desire to become a consistently elite defense in the Pac-12.
"We are going to play defense at Arizona State, if you are going to win a championship, all you have to do is look at the team that won the championship last year (Stanford)," Graham said. "We were second in the league in total defense. That's something that we have taken great pride in. I think in one year we've established ourselves as one of the dominating defenses in the country and especially this conference. Our goal defensively every year is to over sign defensive linemen, over sign people that can affect the quarterback."
"I think we signed the best player in the state that fits us," Graham said. "I'm very excited about him. He has unbelievable athleticism and the biggest thing is the character of this man and the leadership that he provides. He epitomizes everything we want in a player."
Even though Cox was one of just three local prep players ASU signed this year, Graham believed he made significant progress in in-state recruiting from a year ago; an effort that will pay subsequent dividends in years to come.
"I can tell you the image of our program is in good standing," he said. "I would tell you we've gone a long way in building trust with the coaches. Did we win every one? No. But we're going to compete with the best of them. Obviously we'd love for nobody to come in here and sign someone but it's going to take some time to get it to where it needs to be."
"Marcus is one of the top defensive ends in America, he's a guy that our fans are going to love in a hurry," Graham said. "The thing that attracted him was that we are one of the best in the country at getting after the quarterback. We think he'll have immediate impact here."
"You are going to love watching the Latu brothers play," Graham said. "These guys were co-defensive players of the year over in California. Many of the high school coaches we talked to over there thought we got two of the best players in Southern California in the Latu brothers. Villami will be an inside linebacker and Alani will be a will linebacker."
Graham said Ball will play safety at ASU, even though he is capable of landing elsewhere such as tight end.
"He's the most dynamic receiver I've seen in a long time on film," Graham said of the 6-foot-4 athlete. "Our fans will love this guy."
"Our number one offensive goal was dynamic players at wide receiver," Graham said. "That was our number one focus coming in."