After LDS mission, LB Case Hatch getting accustomed quickly to ASU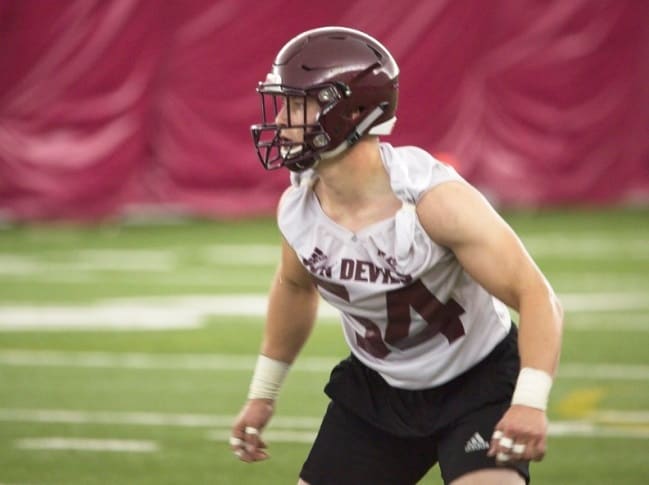 The whistles of every ASU coach couldn't come out quick enough. Near midfield, Case Hatch had Sun Devil running back Eno Benjamin wrapped in a bear hug just seconds after the walk-on linebacker delivered a wake-up hit to ASU's off-limits commodity.
Hatch, who has been playing second-team middle linebacker this spring, caught himself at the last second from laying a vicious hit on Benjamin. Up until then, though, who he was tackling wasn't too important -- not as long as he was making plays.
That's the life for a walk-on, especially one who has heard the words "no" as much as Hatch.
For the last two years, the former Gilbert Perry product was on his church mission -- away from his family, away from football. During his junior year of high school, Hatch's parents gave him the choice: follow your dreams or follow God.
He chose the latter.
As he called schools to tell them of his decision, the line started to go dead. Most colleges weren't interested in waiting two extra seasons for Hatch's services. For one, they needed the talent now and two, who knows what he'll look like in two years?
"I got offered by a couple schools and then when I told them I was going to go on a mission, all the schools said, 'Look we can't wait for you anymore,'" Hatch said. "We have to pull everything from you. Lost a lot of scholarships. Lost a lot of dreams. But here I am now."
So, months later, after recording a state-leading 107 tackles his senior year, the Arizona Cardinals' High School Defensive Player of the Year was forced to sign a letter of intent with Southern Utah University. His hopes had been much higher.
But Hatch only looked at Southern Utah as a potential springboard to bigger and better things, should he land there. He knew his mission was going to be different than many of the others that came before him, he was going to come back bigger and better.
"I always thought Southern Utah would be a point of growth, an opportunity to play and then move on," Hatch said
After his senior year of high school, Hatch traveled east to Miami for his mission trip -- taking a six-week trip to Mexico in advance so he could learn Spanish and talk with the people down there -- always keeping in mind that he was going to play football when he finished his mission.
As the alarm clock started buzzing around 4:00 am every morning for two years, Hatch kept his mind fixated on the idea of his football future. It didn't matter that he wasn't 100 percent sure where he was going to play or anything like that. He needed to be prepared when he got back.
"We'd get to the gym at 4:30 in the morning and then we'd go until 7 (am.) Every day for two years," Hatch said. "As long as you keep your mindset and your goals, you set strong goals and then you have a plan to act upon those, I feel like that what becomes your motivation and you do it for a purpose."
Hatch said he would do speed and agility training and then go into the weight room every morning, keeping an eye towards the future. Most players come back from their mission in worse shape than when they left, often making school hesitant to sign them.
Hatch knew that.
As his time in Florida was winding down, through family and friends with ties to the school, Hatch was able to get in touch with Arizona State's Director of Player Personnel Al Luginbill. With nothing to go off of aside from Hatch's senior-year film, which was two years old, the Sun Devils asked for some measurables just to make sure Hatch was truly in great shape.
Everything checked out. ASU defensive coordinator Danny Gonzales said that Hatch, physically, looks better than any player he's ever seen coming off a mission. Hatch was offered a spot on the Sun Devils' roster, finally able to embark on the dreams he put on hold two years ago.
As he stands in the Arizona State Student-Athlete Facility on the second week of spring practice, the freshman linebacker, who really should be a senior, flashes a smile. He's able to reflect for a second, thinking about all the 4 am wake-up calls that finally paid off.
"There's a lot of times after practices, when it's hard or when it's difficult when I'll think, 'Man, look how far we've gone. We're finally here. Let's make the most of it.' Hatch said. "(I can) make a name for myself … finally play D1 football."
Now, playing in a banged-up and thin Arizona State linebacker corps, Hatch is getting a lot of time on the field at the Mike linebacker spot, running around and trying to get his hand on every play possible.
"He's an effort guy that's doing a really good job," Gonzales said. "You've seen some marked improvement from Day 1 to Day 6. He's got a pretty high ceiling. Like I said, I want to see some live bullets before I make any real judgments but he's doing a good job."
Hatch is unsure if he'll get any playing time this season. What he does know is he'll get a fair shot at seeing the field.
"If you're producing, you'll play," Hatch said. "So, I've just got to produce."
Join us on our premium message board, the Devils' Huddle, to discuss this article and other ASU football and recruiting topics. Not a member yet? Sign up today here and join your fellow Sun Devil fans!